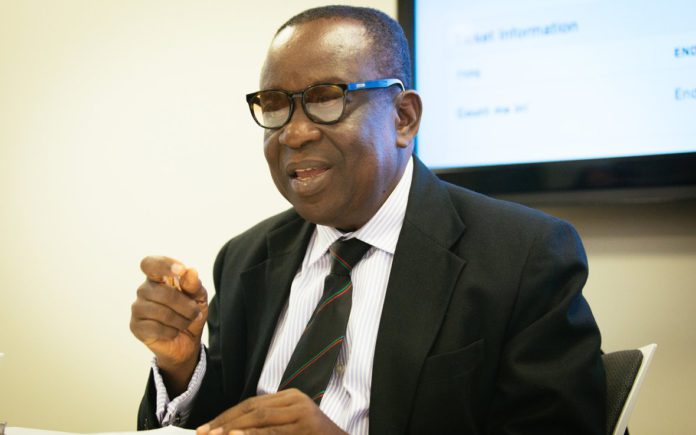 National Security Minister Albert Kan Dapaah, has been asked to resign honourably following the leakage of a video conversation between him and his alleged lover that that has gone viral on social media.
Chief Executive of the African Centre for Security Studies, Paul Boateng, says the embattled minister was not security conscious enough if the content of the video that is in the public domain are genuine.
"I won't judge the security minister on moral grounds because no one is perfect but my comment is based on security implications [of his action] as a security expert. If the video that has gone viral involving the minister is indeed true, then I am highly disappointed in him, looking at how sensitive his position is," he said.
Mr. Boateng, therefore, believes resignation will be an honourable thing and the best option since he failed to protect his office.
"He should just resign or the President should sack him," he demanded.
Mr. Boateng was speaking on Adom FM's morning show Dwaso Nsem, Monday.
READ ALSO
Driving Investors Away
Mr Boateng also explained that inasmuch as his conduct in the said video posed security threat to his person, it also had the propensity to deter investors.
"As a head of security, if you are unable to protect your security then you have compromised your position and send a wrong signal which can drive away investors. He has exposed his level of understanding of security issues," he noted.
Mr Boateng has therefore asked the President to immediately sack Mr Dapaah because his conversation with the lady has exposed him on how he has compromised security and intelligent-related issues.
He also indicated that minister's action could affect Ghana's relationship with other countries.
Word of Advice to Top Government Officials
Mr Boateng also added that anybody could be pardoned for being careless but not a person in the position of a National Security Minister.
He urged government officials to be careful with how they interact with people, especially in the election year.
"The ministers and the MPs should be careful; as we approach the election, all these things will happen so they should be extra vigilant and not fall prey to these ladies or anyone," he advised.
Background
Ghanaians woke up on Sunday to a viral video of the National Security Minister and an unknown woman in a video call where they were intimate with the said lady instructing the minister to show his face among others.
Listen to the alleged video
In the video, the minister followed every instruction of his supposed 'mistress' on the other end of the video conversation including turning around to show the pyjamas he was wearing, among others.
Source: Adomonline.com | Dorcas Abedu-Kennedy