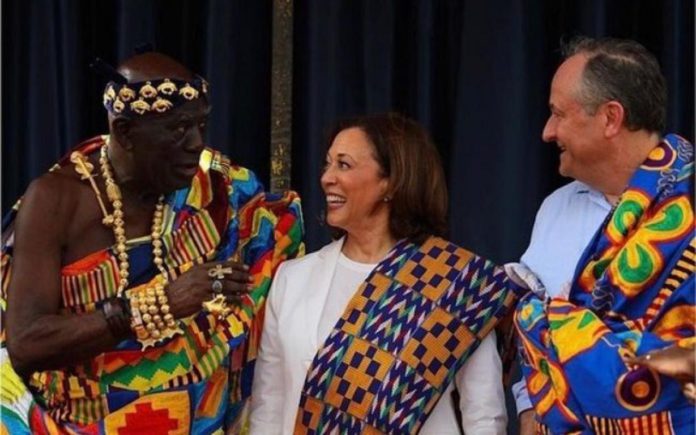 U.S. Vice President Kamala Harris and Second Gentleman, Douglas Emhoff received a traditional Kente cloth, from the Chief of Cape Coast, Osabarima Kwesi Atta II, at the Emintsimadze Palace in Cape Coast.
Kente is generally a symbol of high honour in Ghana. It is a meaningful sartorial device, as every aspect of its aesthetic design is intended at communication.
The colours of the cloth each hold symbolism such as gold meaning status/serenity and yellow standing for fertility.
The rest include green referring to renewal, blue meaning pure spirit/harmony and red and black denoting passion and union with ancestors/spiritual awareness respectively.
The Kente given to Kamala and Douglas had combinations of most of the colours showcasing the high respect the traditional authority and the people of Cape Coast have for the US second couple.
Kamala arrived in Ghana on Sunday for the first stop of her three-nation African tour.
She was received by Ghana's Vice President Mahamudu Bawumia amid traditional music and cheers from students, dancers, and drummers.
She has since taken part in different activities in Ghana.
This reportedly includes a visit to the skate park and co-working space that has a recording studio for local artistes and a subsequent state banquet with the Ghanaian president and first lady.
She also toured the Cape Coast Castle in the Central Region to know more about the history and activities that took place at the castle during the Atlantic Slave Trade era.