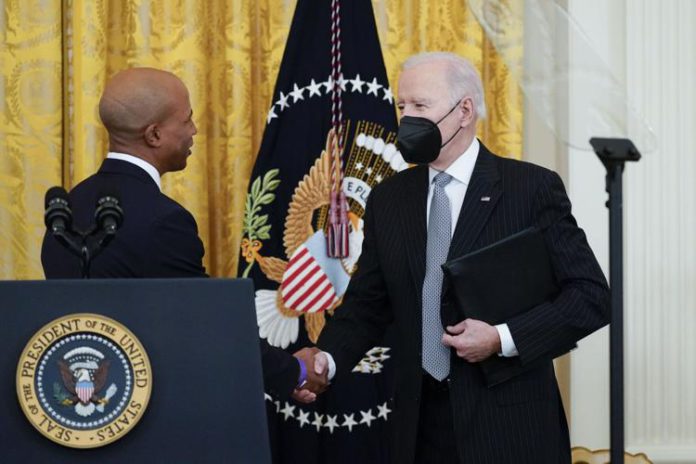 United States President, Joe Biden, has honoured Dr Edjah Nduom for his contribution to the fight against cancer.
The famous oncologist of Ghanaian origin is the son of politician and presidential hopeful, Dr Paa Kwesi Nduom.
"Doctor, I love you," the U.S. President told Edjah Nduom at the launch of the federal Cancer Moonshot Research Programme on Wednesday, February 2, 2022.
President Biden relaunched his cancer "moonshot," programme on Wednesday to help the scientific community accelerate its quest to reduce the disease's deadly toll over the next 25 years.
We are so proud of @EmoryNeurosurg @EKNduom who introduced @POTUS @WhiteHouse relaunch of #CancerMoonshot. thread. @emoryhealthcare @EmoryUniversity pic.twitter.com/leVgb9DQwE

— EmoryBrainHealth (@EmoryBrain) February 2, 2022
Biden said the goal of the programme was to cut cancer's death rates by at least 50% and to improve the experiences of those battling it. He called the initiative a "presidential priority" and said its goals were achievable thanks to scientific breakthroughs during the response to the COVID-19 pandemic.
"Just as we harnessed science to develop cutting-edge COVID-19 vaccines and treatments, we will bring a sense of urgency in the fight against cancer," Biden said.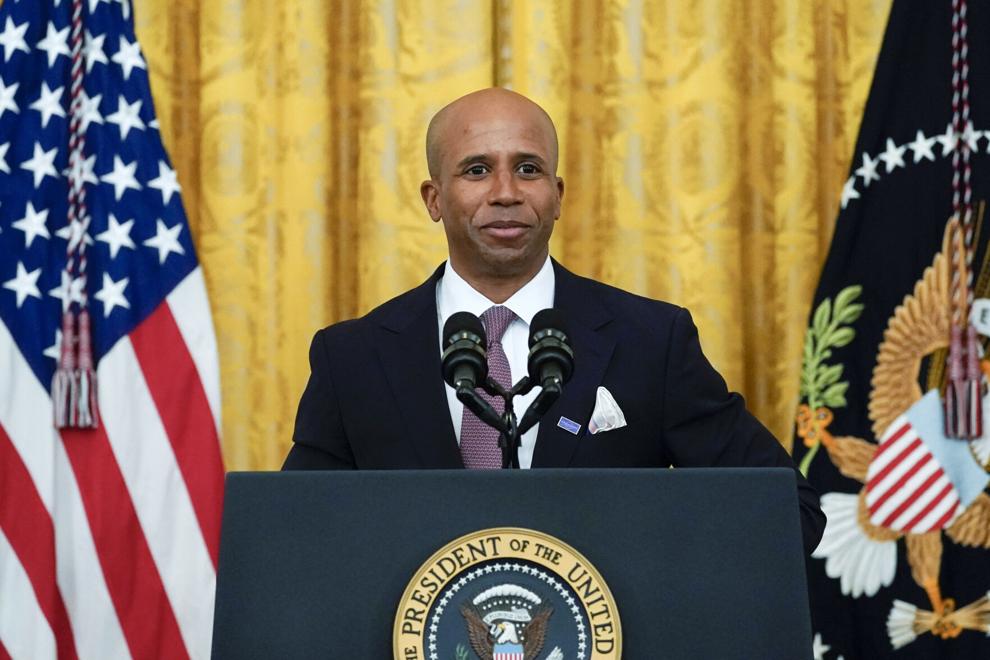 The Biden administration's first actions will include creating a "cancer Cabinet" of federal departments and agencies to better focus the government's efforts on the disease and to host a gathering of public and private groups to discuss innovations in treatment. The White House said Biden would name a coordinator to work out of the executive office to oversee the effort.
Dr Nduom introduced Mr Biden at Wednesday's announcement at the White House, calling him the country's "patient advocate-in-chief."
"From my vantage point, as a neurosurgeon scientist, constantly thinking of ways to treat cancer patients, to fight cancer and seeing countless patients every year, I can confidently say this is the most exciting moment in the history of our field," Dr Nduom said.
Dr Nduom was instrumental in efforts to save Mr Biden's late son, Beau Biden, and WSBTV news anchor, Jovita Moore.
Today President @JoeBiden announced a relaunch of the "cancer moonshot" project he oversaw during the Obama admin. — and was introduced by Emory's own Dr. Edjah Nduom (@eknduom), who specializes in brain and spinal cord tumors @EmoryMedicine @WinshipAtEmory @EmoryBrain pic.twitter.com/S8o5xKxBOY

— Emory University (@EmoryUniversity) February 2, 2022
Speaking to the U.S.-based WSBTV, Dr Nduom said Mr Biden's Moonshot programme is a great victory for early detection of cancer.
"I think we can do better for patients like Beau Biden, for Jovita Moore. I know we can and what we need to get better outcomes for them is new treatments," he explained.
"And the way we get to new treatments, dramatically new treatments, is by taking a leap of faith and by coming up with new approaches. Things we haven't thought of before and approaching these cancers in a completely new way. And this Moonshot Initiative is what is going to give us the resources to do that," he said.
Dr Nduom is currently an Associate Professor in the Department of Neurosurgery at Emory University School of Medicine.
About Dr Edjah Nduom
Associate Professor in the Department of Neurosurgery at Emory University School of Medicine. A fellowship-trained and board-certified neurosurgical oncologist, Dr Nduom's clinical specialty is the surgical management of brain and spinal cord tumors.
He is particularly interested in the safe resection of malignant tumors located in eloquent areas of the brain, the brainstem and spinal cord.
Dr Nduom is a member of the Cancer Immunology Research Program at Winship Cancer Institute of Emory University. He holds numerous positions in national and international medical societies.
Notably, he is Co-Founder and Diasporan Representative of the Society for Neuro-Oncology Sub-Saharan Africa; International Outreach Committee Co-Chair of the Society for Neuro-Oncology; Membership Director of the Joint Tumor Section of the American Association of Neurological Surgeons and Congress of Neurological Surgeons; and Member of the Board of Directors of the National Brain Tumor Society.
Dr Nduom received his MD from University of Pennsylvania in Philadelphia, Pennsylvania. He completed a residency in Neurosurgery at Emory University in Atlanta, Georgia. He completed a Research Fellowship in Neurosurgical Oncology in the Surgical Neurology Branch of the National Institute of Neurological Disorders and Stroke in Bethesda, Maryland, and an additional Neurosurgical Oncology Fellowship at MD Anderson Cancer Center in Houston, Texas.Dr. Nduom's research focuses on the modulation of the immune system for the treatment of malignant brain tumors.
He has presented his translational and clinical work on immune therapy for brain tumors at numerous national and international meetings.