Dancehall Naa, Shatta Wale has thrown shades at a lawyer who has urged the government to ignore appeals for the revocation of Interpol's Red Alert on the Chief Executive Officer of Menzgold, Nana Appiah Mensah.
Shatta has, in a response to Amanda Clinton, asked her to reconsider her position because customers who have invested in the gold firm are in pain.
According to him, NAM1 is willing and ready to come to make good his contract with his company's customers.
Alternatively, Shatta has asked "to pay our money" or "stop making such statements because people are worried".
READ ALSO: Lawyer cautions gov't against revoking NAM 1's Interpol Red Alert
Lawyers for the embattled Menzgold CEO have written to the government, asking for an Interpol alert on him to be revoked in the United Arab Emirates, saying the alert was causing an impediment to the retrieval of funds to pay aggrieved customers in Ghana.
Speaking in an interview with Citi FM, Ms Clinton explained that releasing NAM1 could stand him a high chance of getting his way with Ghanaian officials and the law.
But Shatta has disagreed with her position, indicating that NAM1 was ready to pay distressed customers their principals invested but it can't be possible if "a certain lawyer says he should be locked up in Dubai so who pays us?" he asked.
ALSO READ: Akuapem Poloo gives Victoria Lebene marriage tips
Shatta reiterated his stand as one of the people who has his money locked up in the firm, urging customers to keep calm.
Read his full statement below:
"Good morning 
I am sharing this as a menzGold customer who needs my money as well as the numerous customers with the same mindset. The only person who can facilitate the payment of locked up funds is Nana Appiah Mensah and he has shown his commitment to pay. He wants to come to his country to pay but a certain lawyer says he should be locked up in Dubai so who pays us? Please if the lawyer wants to pay our money then we thank God because very soon, she will see us in her office to help us get our money. But, if she can't help us then please she should stop making such statements because people are worried. The solution is never in keeping NAM 1 in Dubai. Thank you for listening to me Menzgold customers. We are still praying for a peaceful Ghana where citizens will be proud of being Ghanaians.
READ ALSO: Photo: Fans stunned as Rev Obofour places hand on wife's backside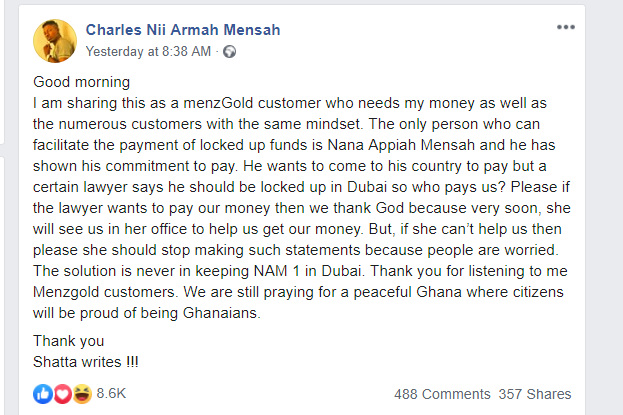 Source: Adomonline.com/ Dennis K. Adu