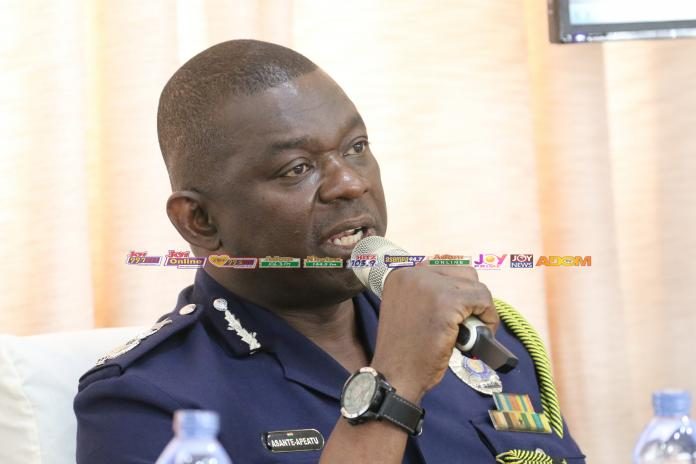 Three police officers who allegedly assaulted Ghanaian Times journalists have been interdicted by the Police Service, a statement from the police has said.
"The Inspector General of Police has directed the immediate interdiction of the under-listed Police Officers for their involvement in the alleged assault of journalists from the Ghanaian Times on 14th March 2019 in Accra," the statement reads.
The statement which was signed by the Director-General of Public Affairs, ACP David Eklu named the officers involved as Inspector Isaac Opare of the Ministries Division, Accra; Sgt Ebenezer Akrofi of Accra Regional Police Headquarters; and L/Cpl Evans Kofi Ntim of the Police Visibility Unit in Accra.
The statement further directed the Accra Regional Crime Officer to take over the case from the Ministries Police Station while the Accra Central Commander of the Motor Traffic Unit handles the motor traffic accident aspect of the case.
The IGP has further instructed that the Professional and Standard Bureau of the Ghana Police Service also look into the conduct of the police officers involved in the incidence.
Background
A Ghanaian Times reporter, Malik Suleman and two of his colleagues, Salifu Abdul Rahman and Raissa Sambou Ebu were on Thursday, March 14, 2019, allegedly assaulted at Kinbu in Accra.
Malik was said to be filming the officers for a traffic offence and their use of an unregistered motorcycle.
The Police Officers who were not happy that the journalists had tried to record them, allegedly pounced on him and physically assaulted them.
Raissa, a lactating mother passed out and was rushed to the emergency unit of the Ridge Hospital for medical attention when she was allegedly hit in the abdomen.
Below is the statement from the police: