Dancehall act Samini has hit hard at actor John Dumelo over the controversial V8 saga.
In series on tweets, the dancehall musician accused Mr Dumelo of trying to keep and even going further to conceal the identity of a V8 Toyota Land Cruiser vehicle after the 2016 December 7 elections.
Samini's posts emerged on social media after Mr Dumelo joined a crusade to lambast Members of Parliament for proposing a new 450-seater parliamentary Chamber.
SEE THIS: Never compare Bisa Kdei to KiDi, Kuami Eugene – Mr logic
According to Mr Dumelo, the $200 million can build close to 10 factories which would eventually lead to the creation of jobs for about 10,000 Ghanaians.
"The $200m can build 10 factories to employ 10,000 youth. We the youth are pleading with Parliament. Yes it's necessary but pls don't build that chamber now. #DropThatChamber," he tweeted.
But, Samini said he couldn't fathom why Mr Dumelo would have a hand in the #DropThatChamber crusade against parliamentarians when he, Dumelo, had political questions to answer.
MORE: Dumelo busted with missing car
He likened Dumelo's assertion to his to prove him inadequate to join the campaign.
"Good point. Same way one #V8 cost can do wonders in my village boss. Did you try to keep it or they lied on you chale ?.. Ghana wants to know."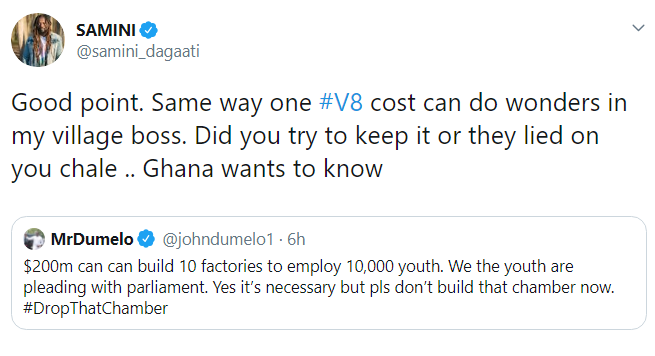 Source: Adomonline.com | Dennis K. Adu