This article is part of HuffPost's "Reclaim" campaign, an ongoing project spotlighting the world's waste crisis and how we can begin to solve it.
Airplanes can't fly forever, so what happens when they're too old to take to the skies?
Many of them make a final flight to a disassembly specialist like Air Salvage International to be painstakingly broken up for recycling or transport to a landfill.
"They're fully airworthy when they arrive and sometimes look like they're about to go on another trip with a load of holiday-makers on board," Mark Gregory, ASI's founder and CEO, told The Huffington Post. "It can be quite sad."
ASI, located in central England, provides an "end-of-life service" for between 50 to 60 planes at its Cotswold Airport base each year ― taking apart everything from Cessna Citations and Learjets to Airbus A320s and Boeing 737s and 747s. 
Almost all of an airplane's parts can be recycled somehow, Gregory said, especially the metal frame. 
How much can be recycled depends on a plane's design and age. In general, almost 95 percent of newer airplanes (particularly narrow-bodied ones) can be saved from the landfill, but the percentage is not as high for older planes.
The interior plastic side panels and baggage bins can be problematic ― especially in the wide-bodied Boeing 747s, because of their size. "We're working with universities on getting a better method," Gregory said, adding, "they haven't really come up with a solution yet."
"It's evolving, though," he continued. "There's lot of things we do now which we never used to. For example, all the windows now are Perspex, which can be fully recycled."
Aircraft manufacturers are addressing the recyclability of their new planes now more than ever, Gregory said.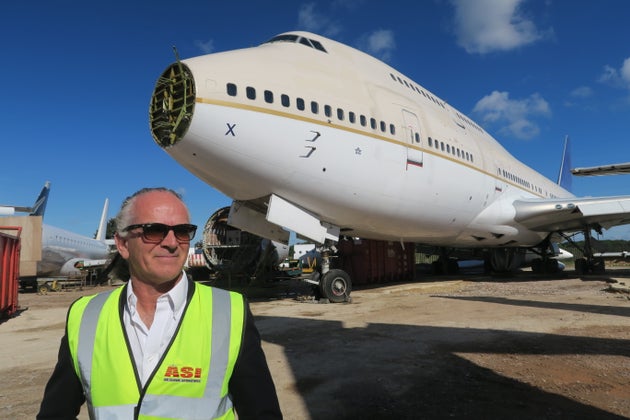 Mark Gregory, 55, used money from his severance package to set up ASI two decades ago. It now handles around 14 percent of the worldwide aircraft disassembly market.
Sometimes, the soon-to-be-scrapped planes yield unexpected surprises — like the $4 million worth of cocaine that company engineers found stashed inside an airplane bathroom in 2010.
"The drugs were actually worth more than the value of the aircraft," Gregory said. Police seized the haul, possibly hidden during a trans-Atlantic flight from South America to Europe several months earlier.
Law enforcers later told Gregory to be careful about any future discoveries of white powder wrapped in refuse sacks. "They asked me if I'd thought if it could have been explosives," he said. "I really hadn't. We're now much more cautious."
Along with dropped coins and mislaid cell phones, ASI's dismantlers once found a pilot's long-lost wallet. "It had been under the captain's seat for two years and he hadn't been able to find it," said Gregory. "We traced him to Australia and sent it back to him."
ASI engineers try to maximize the financial and environmental return of each plane and every item on board. First, they extract the engine, which can have a value of $2 to $4 million and sometimes makes up 80 to 85 percent of the entire aircraft's worth. They then re-lease it back to an airline or break it up for spare parts to sell. 
"We then go for the other critical items — all the avionics, air conditioning, brakes, fuel pumps and transmitters," Gregory said. Most of these items also return to the aviation industry's supply chain.
ASI sells some aircraft sections to flight training schools and others to the entertainment industry for movies like "World War Z," "Johnny English" and the "Batman" and "Star Wars" franchises.
"Our facilities have also been used for various adverts and photo shoots, including a ballerina who was posing on a wing of an aircraft," Trish Channon, ASI's sales administrator, told HuffPost.
The company has also supplied the rear of a Boeing 737 to the Thorpe Park amusement park in Surrey, England, as a prop on one of its rollercoaster rides.
Aviation fans can buy seats from dismantled aircraft for $185 to $430, depending on whether they want coach class or the captain's chair. ASI repurposes any unsold foam and cushions to pack up the cockpit controls and other devices so they can be delivered. Fashion designers sometimes buy the seat belt buckles.
ASI handles around 14 percent of the worldwide aircraft disassembly market. But it started small.
Gregory, now 55, was a licensed engineer for the now defunct Dan-Air airline. When the company laid him off 20 years ago, he used his severance package to buy an old Hawker Siddeley HS 748 from the company. He dismantled it entirely by himself at the airfield and stored its parts in his garden shed before selling them.
"I thought, 'This is a good thing to do, I quite enjoy doing this,' so I went on to meet other people who wanted parts from aircraft that had been parked up," he told HuffPost.
Fortuitously, just as Gregory was setting up his company, the first generation of planes from the late 1960s and early 1970s were reaching the end of their lives. He acknowledges he could have been in the "right place at the right time." 
Business soon picked up, and after scrapping a fleet of 11 Heralds, a major airline asked him to dismantle a Boeing 747.
The company moved to its current location at the former British Royal Air Force base at Cotswold Airport, 100 miles west of London, around 18 years ago, and opened two modern hangars in 2011. "The climate is ideal around here, as it's away from the sea," said Gregory. "Airports by the coast are fantastic for passengers, but the salt air isn't good for storing aircraft."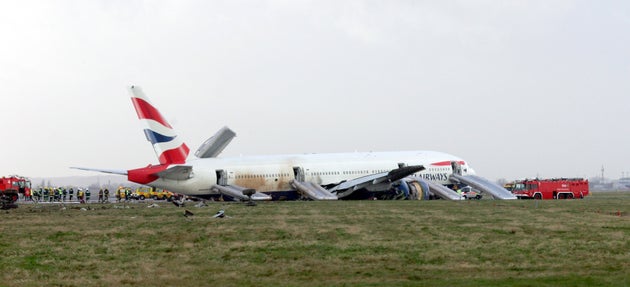 ASI's engineers work on the clean-up operation of a British Airways Boeing 777 that crashed just short of London's Heathrow Airport in 2008.
Stripping down and storing aircraft remains ASI's core business. But it also conducts special projects, like partially dismantling two Concordes and an RAF Nimrod so they could be transported to museums and rebuilt for display.
ASI has also worked for the United Kingdom's Ministry of Defense and the U.S. government, although the exact details are classified.
Gregory is also branching out further into aircraft maintenance, leasing planes and trading parts ― all under the ASI umbrella.
And then there's the harrowing job of accident recovery. ASI's engineers go out on behalf of an airline or investor's insurer to pick up what's left of a crashed plane and transport it to another location for inspection.
"We usually look after the plane until the case is closed. Sometimes [the case] will remain open for quite a long time, so we hold the wreckage in storage," said Gregory. "Once the case is closed, we either destroy [the aircraft] on request of the insurers, or they may put it up for tender and it will be sold to whoever wants to buy it."
ASI's engineers have worked on high-profile crashes, including the tragic 2010 Afriqiyah Airways crash in Libya and the 2008 British Airways crash, when a Boeing 777 crashed just short of the runway at London's Heathrow Airport.
"The majority of the aircraft crashes we deal with are non-fatal," said Gregory. "They're minor mishaps, such as if a wheel comes off and runs into the grass. Now and again we do [deal with fatal crashes], but only after the guys have cleared up human remains and personal effects."
From its humble beginnings, ASI has grown substantially over the past two decades ― and Gregory is keen for the momentum to continue. He wants his company to become a "one-stop shop" for the aviation industry, looking after airplanes for their entire lifecycle.
"I'd like to work with the lessors and the banks so that when they write their leases on the aircraft, they use this place as a hub," Gregory said. "When the banks and lessors buy their aircraft from the manufacturer and then lease it to an airline for 10 years, at the end of that lease, the airline would have to return it to a location ― and I want that location to be here."
"In the U.S., they have these kind of places," Gregory added. "But there's no fixed place for them here. We'd like to look after them from cradle to grave."