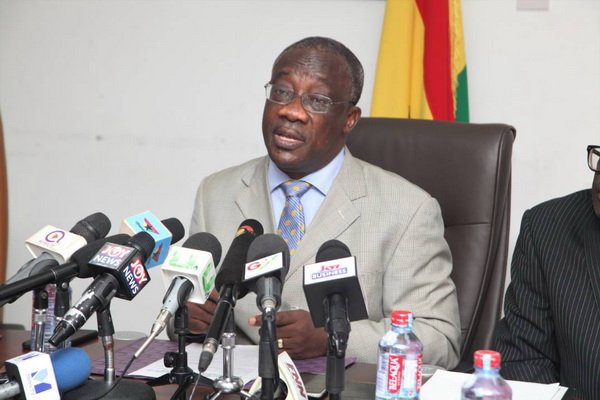 The Commissioner-General of the Ghana Revenue Authority (GRA), Mr Emmanuel Kofi Nti, has sued a social commentator for alleging that he connives with officials of the Customs Division of the GRA to steal from the state.
In his writ filed at the Accra High Court on May 3, 2019 by his counsel , Mr Gary Nimako Marfo, the plaintiff avers that the social commentator, Joseph Bediako, made the said defamatory comments during a press conference held by a pressure group known as Movement for Truth and Accountability (MTA) on April 27, 2019.
READ: Audio: Asiedu Nketia paints gloomy picture ahead of election 2020
Baseless defamatory statements
According to the GRA boss' statement of claim, Bediako, during the press conference, categorically stated that he (Mr Nti) "is helping some custom officers to steal and later he promotes them".
The plaintiff further stated that Bediako further alleged that, "he has collected bribe amounting to Gh?60,000".
It is the case of the plaintiff that the defamatory statements by Bediako sought to portray him as a dishonest person who is unfit for public office and a criminal who engages in bribery and corruption and, therefore, has no integrity to be in public office.
READ: Photos: NDC B/A Youth Organizer survives ghastly accident
"Plaintiff further avers that by the said defamatory statements, his reputation has been seriously damaged by the defendant in public space , including social media , an act which has seriously affected his credibility as a public officer .
"That it is very clear that the defendant's defamatory statement were made without any basis and was merely well calculated to tarnish his reputation , ridicule and reduce his image in the eyes of right thinking members of society," the statement of claim added.
Reliefs
READ: Suspected killer of pregnant woman lynched
Mr Nti is seeking certain reliefs, including compensatory damages against Bediako in the sum of Ghc10m for the loss of reputation, a declaration that Bediako's comments were defamatory and without any basis.
He also wants an order directed at Bediako, his agents, assigns and privies from ever making any defamatory publications about him.
He is further praying the court for " an order directed at Bediako to retract the said defamatory publication and render an unqualified apology in the same prominence as a press conference and two publications in the Daily Graphic."
Source: Graphic.com.gh