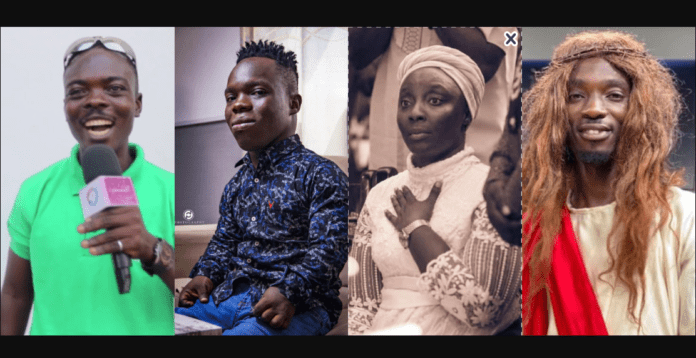 In 2019, some Ghanaians successfully used social media and the internet to generate buzz for themselves.
Whether via hot photos on Instagram, viral videos on Facebook and Twitter, or topical discussions on YouTube, this new crop of Ghanaian celebrities have practically forced their way into stardom:
SHATTA BANDLE
Ghanaian diminutive personality, Shatta Bandle, was 2019 biggest internet sensation.
After bragging to be richer than Africa's richest Aliko Dangote and American billionaire Bill Gate he rose to fame with a huge fanbase in Nigeria and around the world.
Shatta Bandle was born Idris Firdaus, a Northerner from a small village called Karaga. Aside from being referred to as Shatta Bandle, he's as well known as the 'young, young rich nigga'. He was so popular even Nigerian musician made a song about him and featured him in the music video. He made cameos at shows both in Ghana and Nigeria.
With a verified account on Instagram which has 392k followers, Shatta Bandle is undoubtedly Ghana's Social Media Star of 2019.
MR EVENTUARRY
"You don know why is going on" if you didn't see the trending taxi driver from Takoradi whose contagious 'money laughter' gained him fans from Ghana, Nigeria and beyond. Well, Mr 'Eventuarry' is one Ghanaian who became a star this year.
The taxi driver often called 'Eventuarry' gained attention after videos of interactions with others which include his funny laughter were uploaded on Twitter.
His videos got so popular, he flew to Nigeria for his first solo comedy show. He joined the cast of the television show 'Kejetia vs Makola' and even starred in a TV commercial.
SEE THIS:
COUNSELOR CHARLOTTE
After Counselor Lutterdrodt's reign as Ghana's most outspoken and controversial counselor, 2019 saw the rise of Ghanaian Counselor, Lady Lady Rev Dr Charlotte Oduro.
After videos of her counseling advice went viral, she landed in the books of Nigerian singer Simi and that was the start of her reign on social media.
With some people agreeing with her and others criticising what she says, Counselor Charlotte was invited to speak on different television and radio shows.
MMBEMUSEM
After years of acting in Kumawood, actor Mmbebusem hit the jackpot in 2019, thanks to social media.
After videos of 'Ghana Jesus' skits went viral, the actor has received several praises and criticisms which help grow his career.
He featured the likes of Joey B, Medikal, Wendy Shay, John Dumelo among others in his videos.