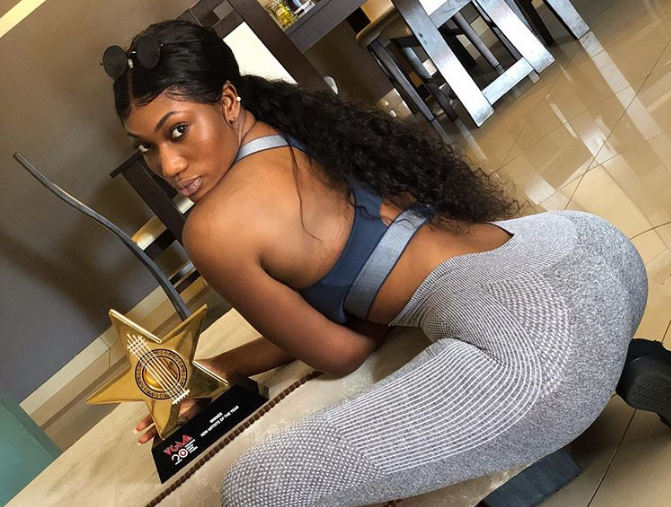 Followers of singer Wendy Shay on social media who are tired of seeing her flaunt her backside at the least opportunity must brace themselves for more as she has no plans of putting an end to the act.
Wendy Shay has an ample backside and often shows it off in either photos or videos in which she likes to twerk.
Although this has earned her insults and name-calling, she has told Showbiz that there is no way she will stop flaunting her assets.
READ ALSO: I admire Shatta Wale for breaking rules in Ghana's music industry – Hammer
"Well, I cannot stop, that is just me. I am beautiful; I am endowed so I have to show it. In fact, I love to twerk so it will be difficult for me to do something else. They should be ready for more," she said.
According to Wendy Shay, her physique attracts all kinds of men who have expressed interest in her but she has declined because she is concentrating on her music for now.
"I just want to do well with my career and get to the point where I can put my hands on my chest and say I am content," she explained.
On how she handles the men, she says, "Most often, I ignore them but the ones who are fans and send their love, I thank them."
ALSO READ: Teach Sarkodie in schools – Hammer
In describing who she is, Wendy Shay said, "I am a cool person, who usually would not pay attention to negative things. I do not like to pretend also."
Wendy Shay, real name Wendy Addo burst onto the limelight with her hit song Uber Driver. She won New Artiste of the Year at VGMA 2019 and Breakthrough Act of the Year at the 3Music Awards also held this year.
Currently signed onto Rufftown Records, Wendy Shay is known for songs such as Bedroom Commando, The Boy is Mine, Astalavista, Psalm 23, Shay on You and Masakra.
Source: graphic.com.gh