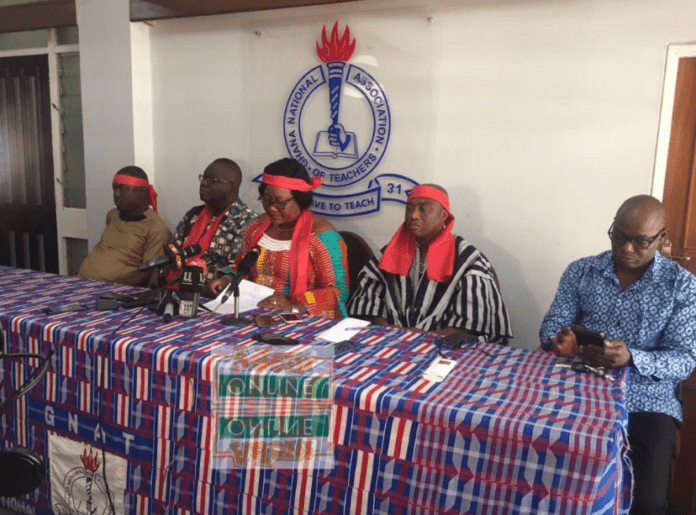 A comment by the Chairman of the Ghana Education Service (GES) Council, Michael Nsowah, to the effect that government was paying what has become known as 'legacy arrears' to teachers "out of pity", has ruffled the feathers of the President of the Ghana National Association of Teachers (GNAT), Philipa Larsen.
So pissed was Ms Larsen that she publicly stated her disappointment immediately, serving notice that the strike will know no end if the Council Chair and for that matter government proceeded on that tangent.
The duo, Mr Nsowah and Ms Larsen were commenting on the strike action embarked upon by three teacher unions since yesterday on Adom FM's morning show, Dwaso Nsem.
Apart from Mr Nsowah's "payment out of pity" comment, he also stated government's readiness to engage new teachers should the teachers continue with their industrial action, another comment that got the GNAT President to retort: We will continue to sit home till our monies hit our accounts".
On why the teachers have chosen strike as an option, Ms Philippa said their checks reveal the arrears had been verified and approved for payment by the Controller and Accountant General's Internal Audit Unit with the verified data handed to GES for review and action.
She, however, said the GES wouldn't budge because it claims some discrepancies had been discovered with regard to the payment.
ALSO READ
"The 'Legacy Arrears' she explained, span between 2012 and 2016, wondering why the GES was dragging its feet in the payments in spite of the verifications and approval for payment by the Controller and Accountant General's Internal Audit Unit.
She said strike action will continue until payments hit members' accounts.
Listen to audio above
Source: Adomonline.com | Dorcas Abedu-Kennedy