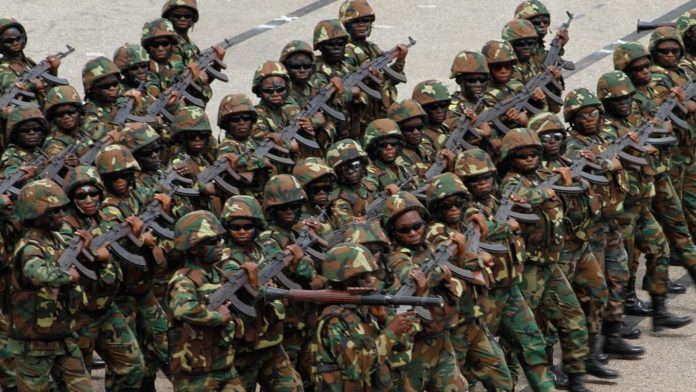 The Ghana Armed Forces (GAF) has issued a warning to civilians who wear military uniforms.
It has hinted that it is embarking on stringent measures to deal with the unauthorised use of military uniforms and equipment by civilians.
A statement released by the military states that: "The Ghana Armed Forces (GAF) wishes to serve notice that it has embarked on more stringent measures in accordance with the law and its rules of engagement, to 'appropriately' deal with the growing menace of individuals and various groups, using military pattern clothing, equipment and another accoutrement in the country.
"GAF is putting in these extra measures following disclosures and investigations which indicate that some miscreants have been deliberately acquiring these military pattern clothing and equipment including guns, for diabolical reasons thereby escalating tension in some communities and also placing the Ghana Armed Forces in disrepute."
This comes after GAF recently arrested a man at Bawku engaged in the re-spraying of a vehicle in military pattern colours on Wednesday, December 21, 2022.
Also, reports indicate some persons dressed in military patterns and military colour shades of clothing, have been allegedly engaged in several criminal activities towards the end of last year and early this month. These incidents have led to unsubstantiated allegations and the circulation of false information in the media that military personnel were rather responsible for these acts.
GAF has, therefore, assured the public that its personnel are putting in all efforts to fish out these alleged perpetrators who wear military pattern clothing and use military equipment to commit crimes and to deceive the unsuspecting public.
"These miscreants and imposters are derailing the immense role the Ghana Armed Forces is playing in order to secure the country, restore normalcy to some conflict-prone areas, and deter crime in various parts of the country.
"GAF, therefore, requires the maximum cooperation of all Ghanaians as it puts in these stringent measures to curb the sale, wearing of military uniforms and use of military-grade equipment by unauthorised persons as it is prohibited under NLCD 177. Those who continue to violate this Decree and others who connive in this violation will be dealt with and made to face the full rigours of the law if found," the statement further stated.
It assured the general public of its commitment to protecting the citizenry at all times. It is therefore soliciting the support of all to enforce these measures in the interest of the needed peace and security for Ghana's socio-economic development.