Properties of embattled businessman and Chief Executive Officer of gold firm Menzgold, Nana Appiah Mensah, popularly known as NAM 1, have been identified.
The listed properties include Landed Properties and Vehicles of Menzgold Ghana Limited, Menzgold Office Complex, Zylofon Art Complex, Brew Marketing Consult, Star Madrid Football Club, Zylofon Music and Media Company Limited, Brew Energy Company Limited as well as G-Tech Automobile Service.
READ ALSO: EOCO secures court order to freeze assets of NAM 1
This news of the identified properties is contained in a statement signed by Head of Public Affairs Unit, Jacquline Avotri at the Economic and Organised Crime Office (EOCO) in Accra Tuesday.
The statement was released after it secured a court order confirming the freezing of assets of Menzgold and other related businesses of NAM 1.
The rest of the properties are two (2) properties located at Trassaco Valley (Plot No. 315 and Plot No. 337), Plot of land (No. 54) near Oak Street- Trassaco Valley, Uncompleted Residence and 510 acres of land.
READ ALSO: NDC to reward hardworking members after 2020 victory – Mahama
EOCO in its statement urged family and friends of the wanted fugitive as well as associates in possession of such properties to submit same to their outfit, in their own interest.
"By this news release, all employees of the affected companies, relatives and friends who are in possession of any of such properties are to surrender same by the authority of the high court to the Economic and Organized Crime Head Office and Regional Offices in their own interest," the statement demanded.
READ ALSO: Ken Agyapong hauled before Privileges Committee
The statement warns that "Failure to do so will constitute contempt of court which will attract the appropriate sanctions."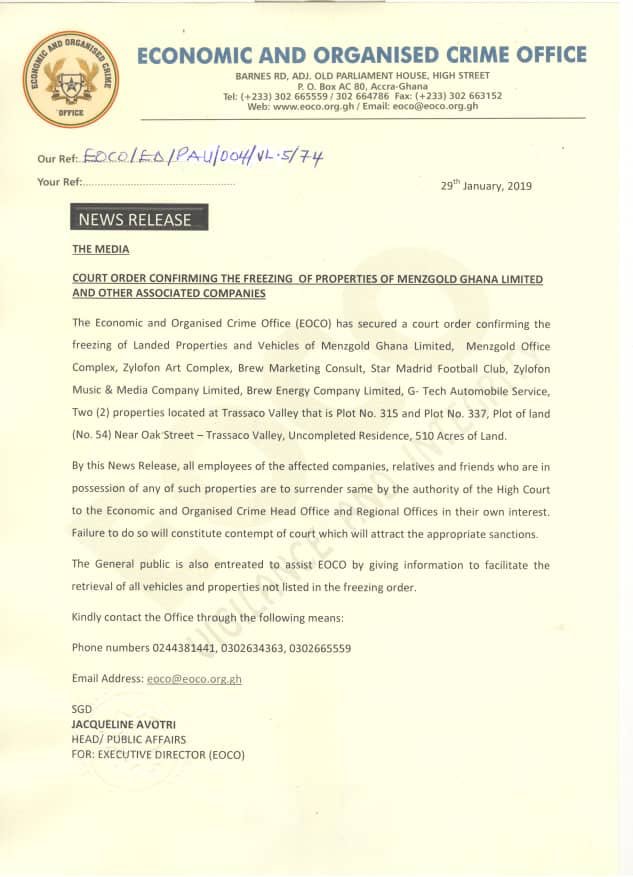 Below is the full statement
NAM 1 who was arrested in the UAE in December 2018, for allegedly defrauding a business partner, has been declared a wanted man by a Circuit Court in Accra.
It follows similar accusations by some 60,000 persons who invested in his Menzgold firm, which has been described as experts as a Ponzi scheme.
The investors were promised a 10% returns per month on their gold deposits, however, ever since the Securities and Exchange Commission (SEC) ordered a shutdown of the non-regulated aspect of the business, Menzgold has defaulted in paying the returns and also failed to pay the initial deposits.