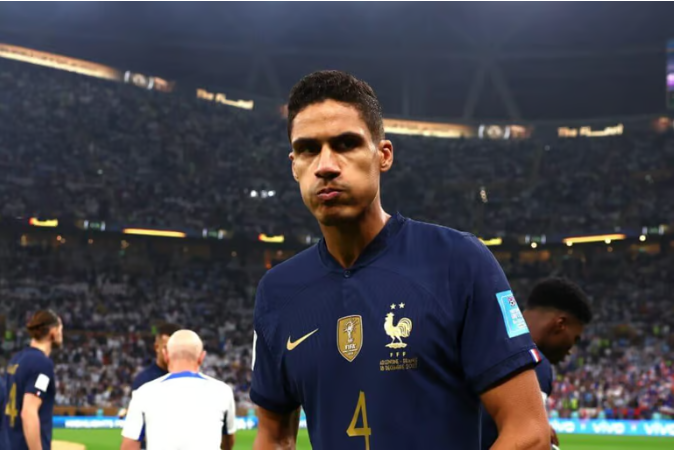 Raphael Varane has retired from international duty with France aged 29. He won 93 caps.
Varane was part of the side that swept to the World Cup trophy at Russia in 2018, then came within a penalty shootout of repeating the feat at Qatar 2022.
His final act in a France shirt came during the World Cup final against Argentina in December, collapsing on all fours after a lung-busting run to prevent an attack.
VARANE'S RETIREMENT STATEMENT IN FULL
"Representing our great country for a decade has been one of the greatest honours of my life. Every time I wore this special blue jersey, I felt immense pride. The duty to give everything, to play with my heart and to win every time we stepped on the field. I've been thinking about this for several months and decided it was the right time for me to retire internationally.
"As a child, I remember following France '98, this team, these players who made us live indescribable emotions. I dreamed of being like our heroes and, 20 years later, I had one of the most beautiful experiences of my life, one that made me really proud. We brought the cup home!! I will never forget it. I still feel every emotion I felt that day, July 15, 2018. It was one of the most amazing and memorable moments of my life.
"This victory that we won together would never have been possible without the support of Didier Deschamps, each of the members of the management and our staff during these years, my team-mates who defended our jersey in each of our matches.
"But more importantly, this victory would not have been possible without the support of each and every one of you along this path.
"Your fervour, celebrations and memories of our return to France will remain forever etched in me.
"Even after the defeat in the final last year, with certainly a great course, you welcomed us as a hero when we returned. To each and every one of you, a thousand times THANK YOU!
"I will miss those moments with you for sure, but the time has come for the new generation to pick up the slack. We have a group of talented young players who are ready to take over, who deserve to have a chance and who need you.
"From the bottom of my heart, thank you. Rapha."