Four people have appeared in a Zimbabwean court for allegedly booing First Lady Grace Mugabe, state-owned media reports.
The Herald says they were arrested after a rally in Bulawayo, where Mrs Mugabe spoke last Saturday.
They reportedly face charges of undermining the president's authority. It is not clear how they pleaded.

The booing came amid a bitter battle between rival factions to succeed President Robert Mugabe, aged 93.
Mrs Mugabe leads one faction, while former Vice-President Emmerson Mnangagwa led the other. He was sacked two days after the heckling and has since fled to neighbouring South Africa.
The four accused are said to be supporters of Mr Mnangagwa.
The three men and one woman have been remanded in custody pending a bail hearing.
Prosecutor Jerry Mutsindikwa told a magistrate court that "the quartet, with others allegedly sang the song 'into oyenzayo siyayizonda'" – the lyrics of which say "we hate what you are doing" in Ndebele – while Mrs Mugabe addressed the rally.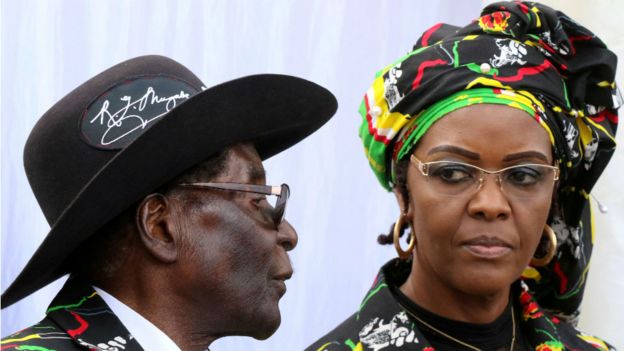 Grace Mugabe is now the favourite to take over from her husband 
Mrs Mugabe had been pushing for the removal of the vice-president, referring to him as a snake that "must be hit on the head."
Mr Mnangwagwa's removal makes Mrs Mugabe the favourite to succeed her husband.
She is now expected to be appointed vice-president at a special congress of the ruling Zanu-PF party next month.