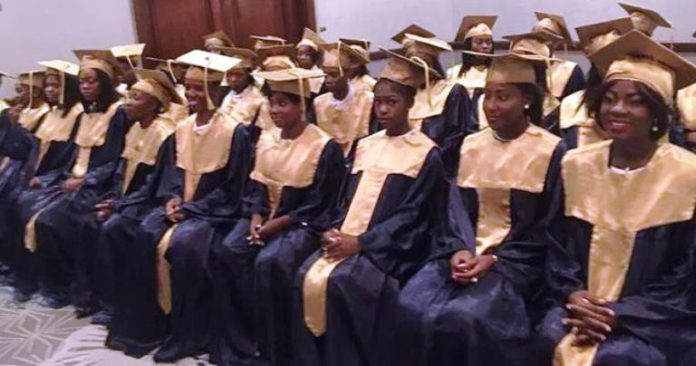 76 former sex workers graduated on Friday from a 2-year vocational program in disciplines such as cosmetology, sewing and cooking.
The initiative is from a non-profit organization called the 'Fanm Kore Fanm' (Women Caring for Women) Association.
READ: Week 11: Adorable kids storm 'Wo Nsa Ano Adwuma' runway (Photos)
Senator Dieudonne Luma Etienne (PHTK – Nord), one of the few women in the Senate, attended the graduation of this first class and congratulated the recipients saying "the acquisition of this new knowledge is not only a formidable weapon in the fight you will have to lead, on a daily basis, to face with dignity, the challenges of life, but also that for the emancipation of the Haitian woman."
READ: Multimedia partners AMA on Joy Clean Ghana Campaign
Former First Lady of the Republic, Sofia Saint-Remy Martelly, was present as the Godmother of this first graduating class. In her speech, she emphasized the social inclusion of Haitian women. She said through her foundation, The Rose et Blanc Foundation (Pink and White Foundation), the women would need to be accompanied beyond graduation. "The Fanm Kore Fanm, is a process that must continue," she said.
READ: Suspected Kasoa cop killer is landlord with police officer tenants
The Fanm Kore Fanm Association is leading a "social reintegration of marginalized women" initiative that receives support from the Fanm Kore Fanmi Professional Center in partnership with Operation Underground Railroad.
Source: The Haiti Sentinel