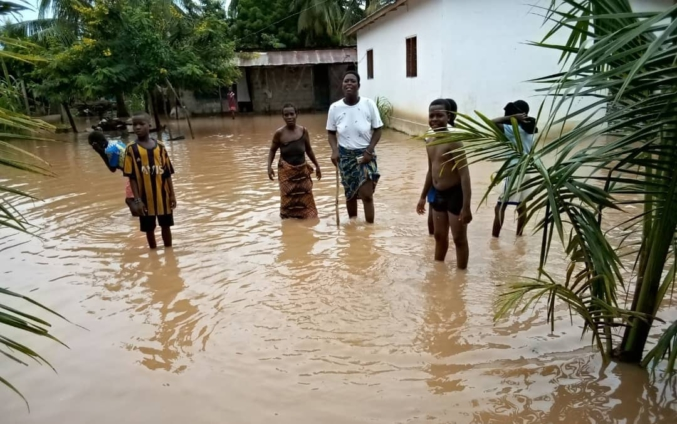 Torrential rains over the weekend destroyed houses and displaced hundreds of people at Duta and Agbawoeme, two adjoining communities near Diamond Cement at Aflao in the Ketu South Municipality of the Volta region.
The rains caused severe flooding of several homes and destroyed property running into tens of thousands of Ghana cedis,
As a result, many of the residents in the affected communities have had to relocate from the area to put up with their family members in neighbouring communities.
Mrs Sylvia Awuye Akpavor, a media practitioner, who lives close to the affected communities, told the Ghana News Agency (GNA) that the situation was alarming as it had really affected the daily life of the residents.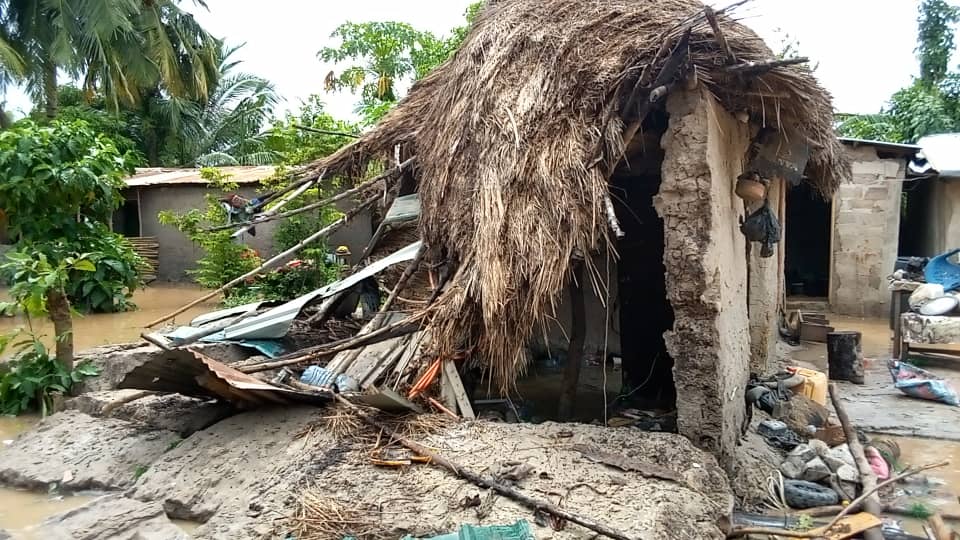 "I have personally visited the Duta and Agbawoeme communities. When you go there now, the situation is very bad. Buildings have collapsed and the people have lost their belongings, clothing, cooking utensils, furniture, even school children have had their uniforms, school bags and books swept away by the floods," Mrs Akpavor said.
Mr Gabriel Ayitey, Assembly member for Duta electoral area attributed the flooding to the spillage of a huge drainage channel (dam) constructed by Diamond Cement factory, which overflowed its limits and spilled over into the communities.
He said: "This is not the first time we have experienced this flooding. It occurs every rainy season, but this year's is just too much, we haven't witnessed anything like this before. It's a spillover from the Diamond Cement dam which opens into the communities," Ayitey told the GNA.
He called on the management of the factory to take immediate action to redirect the drainage channel to forestall further destruction to property and livelihoods of the people.
Dabla Moise, Dziwornu Komla Song and Dabla Enoa, who were all victims of the flooding, took turns to pour out their frustrations to the GNA, and called on the Ketu South directorate of the National Disaster Management Organization (NADMO), to come to their aid.
Torgbi Alossode Eve Agadzi II, Ketu South Municipal Coordinator of NADMO, told the GNA that his outfit had been officially informed about the development and steps were being taken to assess the situation and to see what form of assistance to offer the affected families in the interim.
"NADMO has been informed about this development – My team together with the Municipal Chief Executive, Mr Maxwell Kofi Lugudor visited the affected communities to assess the situation and to see how best the Municipality can offer some interim assistance to the victims whiles we work to find a permanent solution to the problem," the NADMO coordinator said.
Meanwhile, Mr Tati Rama Rao, the General Manager of Diamond Cement Company, refuted the claims by the residents that the flooding was due to the spillage of the company's drainage system.
He told the GNA that management of the company was informed of the unfortunate happening in those communities, but said, attributing the floods to the spillage of the drainage system was far from the truth.