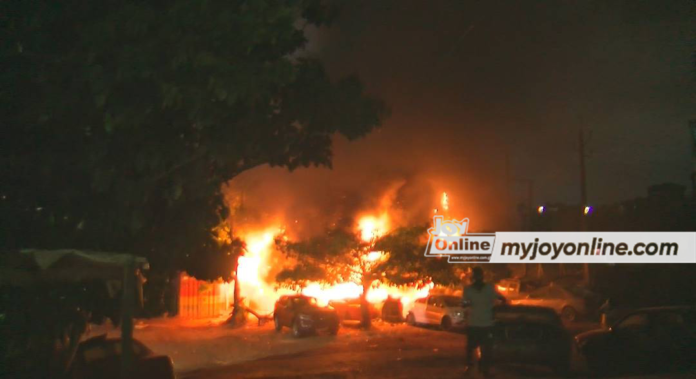 Late last night, a devastating fire wreaked havoc on a chain of mechanic shops located in Asokwa, Ashanti region.
The fire resulted in the destruction of six vehicles, numerous engines, and upholstery materials.
Shortly after the incident, shop owners began assessing the extent of their losses once the Fire Service, with the support of the National Disaster Management Organization, successfully brought the situation under control.
The cause of the fire remains uncertain at this time.
During their return from a trip to Obuasi, a JoyNews team happened to pass by the scene and promptly alerted the Fire Service by calling their hotline for immediate intervention.
Shop owners commended the swift response of the fire service personnel, who arrived at the location within a remarkable six-minute timeframe.
Divisional Officer Grade II, Nicholas Opoku Aikins, the Regional Operations Officer of the Fire Service, stated, "When we received the call at approximately 9:35 pm, our team arrived at 9:38 pm. The fortunate absence of heavy traffic along the route facilitated their prompt arrival."
The Fire Service's efforts were further aided by an unexpected downpour in the area.
"We have surveyed the extent of the damage here; however, due to the darkness, we are unable to determine the exact cause of the fire at this time. Tomorrow morning, the on-duty crew will thoroughly assess the situation and investigate potential causes," explained Divisional Officer Grade II, Nicholas Opoku Aikins.
Mr. Aikins also highlighted the positive impact of the rain and the free-flowing traffic on the Fire Service's operations.
"Generally, rain reduces the spread of fire because when rainwater falls on the flames, it evaporates, creating a humid atmosphere that hinders combustion," he noted.
Meanwhile, the affected mechanics have begun the arduous task of quantifying their losses.
Richard Appiah Kubi, the local chairman of artisans in the area, expressed his distress upon receiving the phone call informing him of the fire incident.
"The burnt items include a wide range of vehicle engines, belonging to both us and our customers. Additionally, there are irreparable spare parts and vehicles lost to the fire, such as the latest models of Honda SUV, Toyota Corolla, and Nissan Pick," lamented Mr. Kubi.
Meanwhile, the mechanics have started counting their losses.