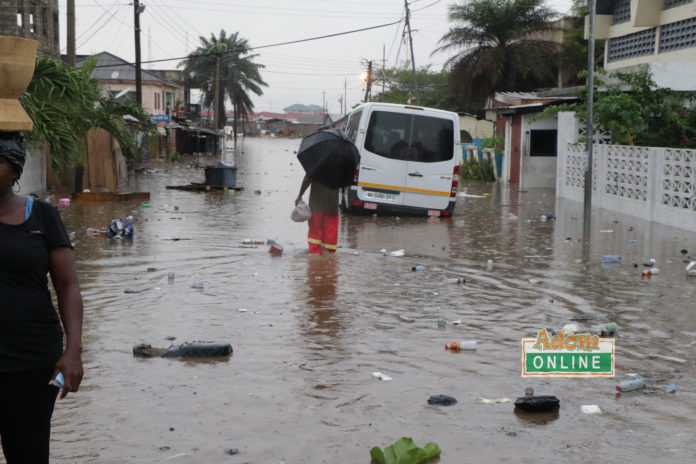 Former Deputy Works and Housing Minister, Samson Ahi, has blamed floods in Accra on the government's failure to release funds for the dredging of major drains in Ghana.
Mr Ahi wants parliament to summon both the Finance and Works and Housing ministries to brief the House on their preparation towards the two weeks spots of rain predicted by the Ghana meteorological agency.
ALSO READ: 6-year-old girl drowns after downpour; MP blames Assembly
According to the legislator, the government's failure to release funds has halted annual dredging which was expected to be carried out long before the rains set in.
"What we have been doing as a country is desilting major drains in Accra and I know for a fact that the Ministry of Works and Housing has written to the Ministry of Finance to release funds but not a cedi has been made available," he said.
ALSO READ: Audio: NADMO issues warning to residents of flood prone areas
Speaking in an interview with Joy News, Mr Ahi, who is the Member of Parliament (MP) for Bodi constituency said the government must take a huge chunk of the blame for the havoc caused by the floods on Monday in some parts of Ghana.
"The Ministry is now handicapped because the government is not helping it to do what is expected and that is why we are experiencing these situations," he said.
ALSO READ: BPS reveals cause of Tema Motorway flooding
"If the money has been released for dredging, we might have experienced floods but not to this gravity," he posited.
Listen to audio above:
Source: Adomonline.com|Dorcas Abedu-Kennedy