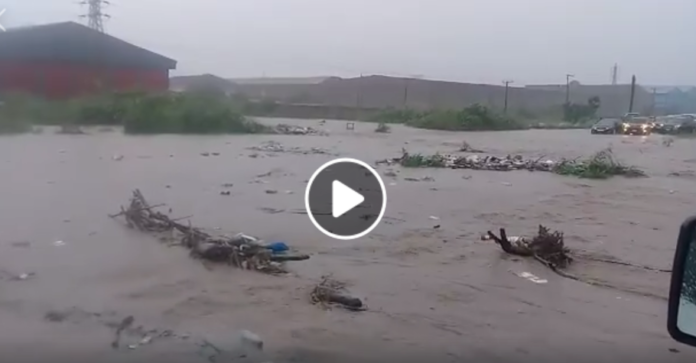 The Bureau of Public Safety (BPS) believes that human activities along the Tema Motorway contributed to the flooding incident that occurred after a downpour on Monday in the Greater Accra region.
According to BPS, the motorway is likely to witness more of such floods until human activities are halted along the motorway.
ALSO: 'Coup plotters' lawyer allege his private conversations are recorded
Speaking in an interview on Accra-based Citi FM, monitored by Adomonline.com, Dr Charles Akayuli, Technical Advocate responsible for Geospatial at BPS, said the many developments along the motorway do not allow rainwater to easily seep into the ground and flow out causing the floods.
"We have a lot of developments taking place along the motorway. At the time of such projects, when it rains, some of the water seep into the ground, some flow away and also evaporate but now, what seeps into the ground is no longer seeping. Human activities along that stretch must cease," he said.
ALSO: Audio: NADMO issues warning to residents of flood prone areas
The floodwaters on the motorway caused massive gridlock on both the Accra and Tema-bound sides of the highway, as drivers were compelled to remain in traffic for hours on Monday evening.
The Ghana Police Service in a Facebook post, which announced the flooding on the motorway, urged the drivers to take extra precaution as they ply the stretch.
Source: Adomonline.com | Gertrude Otchere