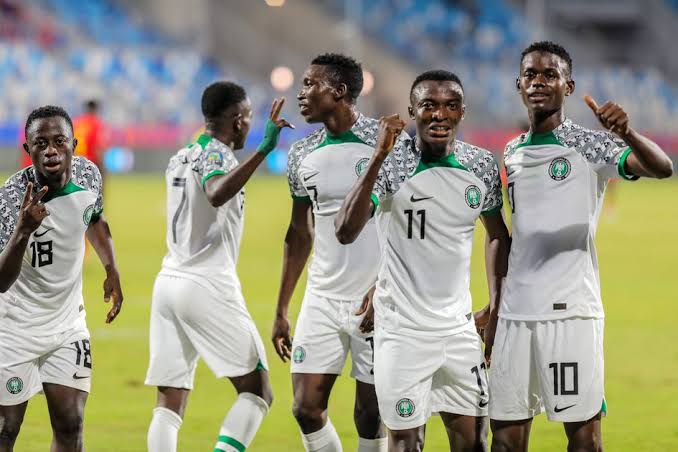 Nigeria became Wednesday (May 24) the first African team to qualify for the knockout stage in the Under 20 World Cup taking place in Argentina. Gambia, AFCON's runner-up followed in the Flying Eagles path. Four teams from the continent are competing in the 23rd edition of the U20 World Cup.
Gambia's U20 team, which is the AFCON runner-up, qualified for the last 16 of the Under-20 World Cup by overcoming France on Thursday (May 25). They won their second match in the Argentinian city of Mendoza (2-1).
The Gambians had dominated Honduras by the same score in their opening game on Monday (May 22). The young Scorpions once again showed their unwavering solidarity against a European nation that was deprived of some of its best players, who were retained by their clubs.
The West African will play South Korea Sunday (May 28) as they eye the first spot on their group (F).
Undefeated Nigerians
Brazil trounced Dominican Republic 6-0 on Wednesday (May 24) to keep alive its chances of advancing to the knockout stage.
The Brazilians are 1-1 and three points behind unbeaten Group D leader Nigeria, which beat Italy 2-0.
Nigeria will next face Brazil on Saturday and Italy will take on the Dominicans, setting up the prospect of goal difference being a decisive factor for qualification.
The Brazilian team, which lost 3-2 to Italy in its first group match, did not face any resistance from Dominican Republic throughout the match in Mendoza, with goals coming from Sávio (37th minute), Marcos Leonardo (38), Jean (57), Giovane (82) and in stoppage time from Marlon Gomes and Matheus Martins.
Earlier in the same city, Salim Lawal's diving header gave Nigeria the lead in the 61st minute and Jude Sunday sealed the victory against Italy in stoppage time, piling pressure on a team that started the tournament among the favourites.
Other African teams
Senegal drew 1-1 with Israel and will need to beat Colombia on Saturday (May. 27) to have a chance of advancing. The Israelis opened the scoring in La Plata in the 58th with an own goal by Babacar Ndiaye. Pape Demba Diop equalized in the 80th.
Colombia leads Group C after a 2-1 win against Japan. Riku Yamane opened the scoring for Japan on the half-hour, but Yaser Asprilla and Tomás Ángel led the Colombians to their second victory with goals in the 53rd and 59th.
Colombia has six points after two rounds, three clear of Japan and five ahead of Senegal and Israel.
Despite their fight, the Carthage eaglets lost out to favourites England on Monday (May 22), 1-0. Tunisians can still dream of reaching the knockout stage though. They dominated Iraq 3-0 on Thursday (May 25).
The top two teams in each group plus the four best third-placed teams will progress to the round of 16.