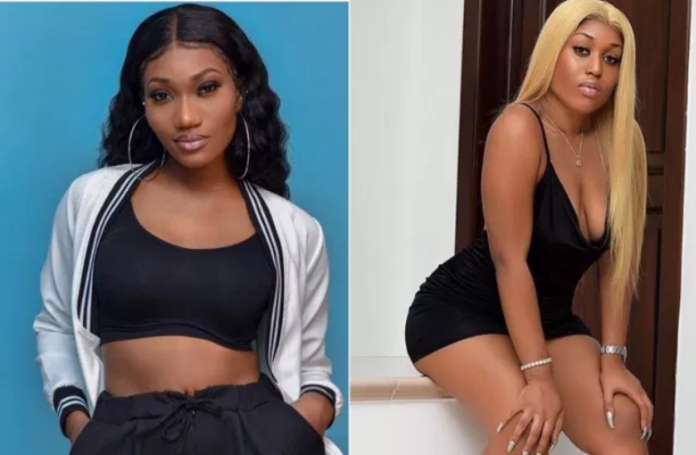 'Uber Driver' hitmaker, Wendy Shay, has revealed that she is currently teaching her Rufftown Records label mate, Fantana how to cook.
In an interview recently, Fantana said if there is one thing that she doesn't know how to do, it is cooking. According to her, she does not know her way around the kitchen.

However, in an interview with Sammy Flex on Zylofon FM's Showbiz Agenda on Wednesday, July 31, Wendy Shay said Fantana was doing pretty well learning how to cook.
SEE THIS: People hate me because of my father's wealth – Davido

"I am currently teaching Fantana how to cook and I must say she is picking up. Currently dishes we have tried our hands on are Indomie, fried yam, and rice and stew," Wendy Shay said.
'
Away from that, Wendy Shay also spoke on the inspiration behind her new single, 'Ghana Boys', saying many men today are not faithful and she thinks it was time someone puts them in their place.

"Guys of today cannot be trusted, they cannot stay with one woman and I have had testimonies from some girls. As artistes, things around us inspire us to make music, hence the song.
ALSO SEE: 2019 Ghana World Music Festival slated for August 3rd to 4th
"What these guys do not know is that, ladies do not like that at all. It is time guys learn to sit with one person and take up their responsibilities," she said.

When asked if she was dating or had experienced infidelity, Wendy Shay said no. "I am single and do not have to experience anything like that for me to write a song about it."

Wendy Shay also dismissed rumours that she was into women saying, "I am not, I have proposals from guys at the moment but I have not made up my mind yet and so if anyone out there also has interest, he can also say it."

Wendy Shay has songs like Uber Driver, Bedroom Commando, Astalavista and Shay On You, Stevie Wonder to her credit.
Source: graphic.com.gh