Emirates has revealed why the 2019 'Di Asa' winner could not board one of its Dubai-bound flights from Accra. 
The management at Emirates has revealed that for safety reasons the organisers of 'Di Asa' should have purchased extra seat for Precious Mensah.
According to Emirates, they require all passengers are safely and comfortably seated with their seatbelt fastened.
"We respect our customers' privacy and cannot discuss specific customer details or cases," the statement released Wednesday said.
The 2019 winner of Accra-based Atinka TV's plus size women reality show 'Di Asa' was disallowed from boarding an Emirates flight to Dubai because of her size.
Precious Mensah, popularly known as PM, was supposed to travel to Dubai as part of her prize with the two runners-up.
Read full statement below:
"Emirates is committed to passenger safety."
Accra – 20th November, 2019: An Emirates spokesperson – "We respect our customers' privacy and cannot discuss specific customer details or cases. Emirates places the highest standards on in-flight safety and as part of this, it is a requirement that all passengers are safely and comfortably seated with their seatbelt fastened. An industry practise for passengers who cannot be accommodated in a single seat due to their size is for them to purchase an extra seat for their own safety and comfort, should a seat be available."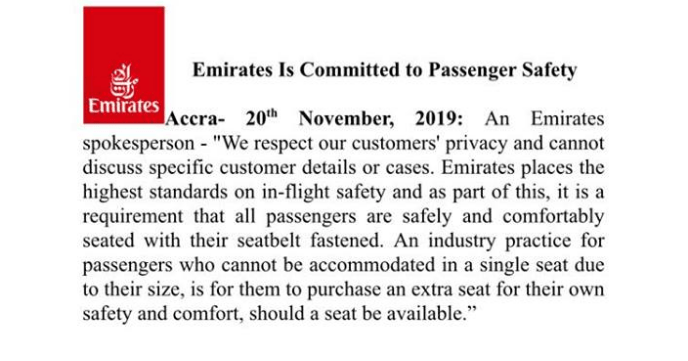 Warning
: simplexml_load_file(https://www.youtube.com/feeds/videos.xml?user=adomtvtube): failed to open stream: HTTP request failed! HTTP/1.0 404 Not Found in
/opt/bitnami/apps/wordpress/htdocs/wp-content/plugins/td-standard-pack/Newspaper/parts/single/loop-single-13.php
on line
89
Warning
: simplexml_load_file(): I/O warning : failed to load external entity "https://www.youtube.com/feeds/videos.xml?user=adomtvtube" in
/opt/bitnami/apps/wordpress/htdocs/wp-content/plugins/td-standard-pack/Newspaper/parts/single/loop-single-13.php
on line
89
Notice
: Trying to get property 'entry' of non-object in
/opt/bitnami/apps/wordpress/htdocs/wp-content/plugins/td-standard-pack/Newspaper/parts/single/loop-single-13.php
on line
92
Warning
: Invalid argument supplied for foreach() in
/opt/bitnami/apps/wordpress/htdocs/wp-content/plugins/td-standard-pack/Newspaper/parts/single/loop-single-13.php
on line
92

Warning: simplexml_load_file(https://www.youtube.com/feeds/videos.xml?user=adomtvtube): failed to open stream: HTTP request failed! HTTP/1.0 404 Not Found in /opt/bitnami/apps/wordpress/htdocs/wp-content/plugins/td-standard-pack/Newspaper/parts/single/loop-single-13.php on line 104

Warning: simplexml_load_file(): I/O warning : failed to load external entity "https://www.youtube.com/feeds/videos.xml?user=adomtvtube" in /opt/bitnami/apps/wordpress/htdocs/wp-content/plugins/td-standard-pack/Newspaper/parts/single/loop-single-13.php on line 104

Notice: Trying to get property 'entry' of non-object in /opt/bitnami/apps/wordpress/htdocs/wp-content/plugins/td-standard-pack/Newspaper/parts/single/loop-single-13.php on line 106

Warning: Invalid argument supplied for foreach() in /opt/bitnami/apps/wordpress/htdocs/wp-content/plugins/td-standard-pack/Newspaper/parts/single/loop-single-13.php on line 106