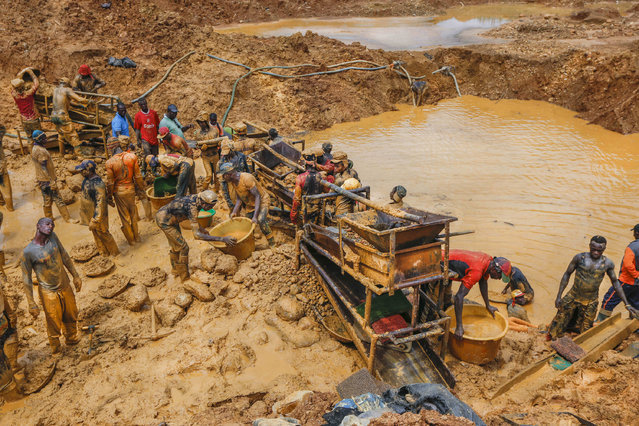 President Nana Addo Dankwa Akufo-Addo
Ordinarily, an
announcement by the government that 220 new mining guards, specially trained to
police activities in mining areas, would be deployed this month to the Western
North Region to combat illegal mining should be welcome news.
But, it is not because
our recent history, where the taskforce mandated to deal with illegal miners
allegedly got compromised, is enough to make us cringe.
Government recently
announced that the first batch of 220 mining guards would be deployed to the
Western North Region this month to rein in unscrupulous small-scale miners.
Another set of 308 would soon be trained at the Police Training School to augment the efforts of Operation Vanguard to fight illegal mining, popularly known as 'galamsey,' across the country.
According to the
government, these newly trained mining guards have been educated on critical
areas such as surveillance, ethics of security services and arrest of illegal
miners.
Their role is quite big.
They are expected to police all forms of mining such as small-scale gold
mining, quarrying, sand winning and industrial mineral operations in satellite
areas set up by the Minerals Commission. The guards are also expected to
monitor activities around water bodies.
The selection of Western
North Region by the government was premised on the fact that large portions of
Ghana's rainforest were being destroyed with reckless abandon in areas such as Diaso
and Wassa.
Question is, what has
the taskforce set up by President Nana Addo Dankwa Akufo-Addo been up to in the
past months?
If the taskforce had not
been disgracing themselves by being compromised as alleged in the Anas Aremeyaw
Anas' 'Galamsey Fraud' documentary, there certainly wouldn't have been the need
to waste taxpayers' money to train another set of guards to fight illegal
mining.  
Be
that as it may, the Minister of Lands and Natural Resources,
Mr Kwaku Asomah-Cheremeh has shown commitment to turn the tide bearing in
mind the fact that President Akufo-Addo put his presidency on the line when he
declared war on 'galamsey.'
The Minister should, thus, ensure that the 220 guards do not take advantage of the opportunity to amass wealth by rather paving way for hoodlums to destroy our forests and water bodies through illegal mining. Eyes are watching!
Source: Kofi Enchill