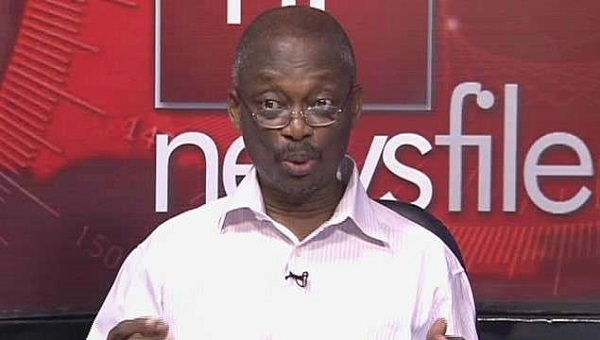 Editor-in-Chief of the New Crusading Guide Newspaper, Mr Abdul Malik Kweku Baako says as far as he is concerned, Vice President Dr Mahamudu Bawumia's figures had more credibility compared to those churned out by Mr Cassiel Ato Forson, a former Deputy Minister of Finance.
According to Mr Baako, the issues Mr Forson raised about some interventions by the Bank of Ghana at the National Democratic Congress (NDC)' 'True State of the Economy' held in Accra were inaccurate.
"This whole noise about an intervention of  700 million dollars to shore up the cedi that they quoted some Bank of Ghana documentations are false.
SEE THIS: VGMA Nominees Jam: Adina, Obaapa Christy fail to perform
"Per my research, I noticed that it is not accurate indeed, a document I have seen which is also a Bank of Ghana document indicates that only about a 100 million of the so-called 700 million went into interventions, while 600 million went into coupon payment to do with our domestic bonds and also for energy payment.
"So in actual fact, there has not been any 700 or 800 million intervention by the Bank of Ghana as alleged by the NDC. Officially, that is not what the records say, this vindicates what the Vice President was saying, he didn't lie, he told the truth," he stressed.
Speaking as a panel on Joy New's News File, he added that there was nothing propagandist about the data and figures the Vice President presented during the Town Hall Meeting.
"The economy ended in 2012 with a fiscal deficit of 12.12 percent of GDP, 11.7 in 2013, 11.9 in 2014 before falling to 6.7 percent in 2015, but rose again to 9.4 percent in 2016.
ALSO SEE: Celebrities have roles in Mahama's 2020 campaign – Aide
"Mr Forson's view that the official data from the Ministry of Finance indicates clearly that overall deficit for the end of 2016  was 7.8 percent of GDP, that is 6.1 percent of the new GDP is wrong.
"Mr Ato Forson went for a provisional out-turn from the Ministry of Finance website to project his course which wasn't accurate. The truth of the matter is that the figures and data the Vice President gave were absolute and official," he endorsed.
Source: Adomonline.com/ Nana Aba Mensah