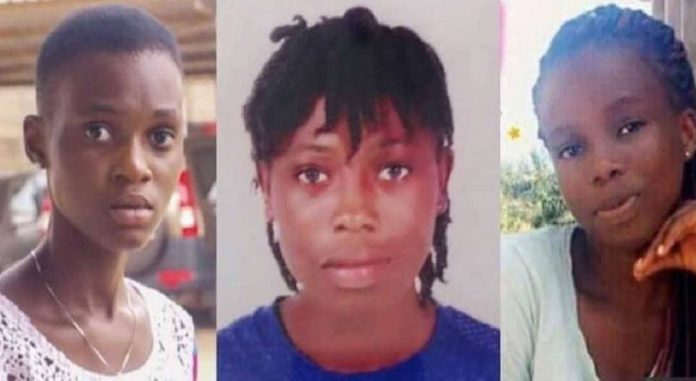 There was drama at the Sekondi High court Wednesday when father of Priscilla Blessing Bentum, one of the four missing Takoradi girls attacked one of the suspects, Samuel Udoetuk Wills in court.
The action of Francis Bentum was after the State Attorney Adlaide Kobire Wood asked for another date of adjournment for them to receive documents from the investigator handling the case.
Western Regional correspondent, Ina-Thalia Quansah has reported that the judge granted the request and asked that the prosecution comes back on 6th February, 2020.
She said after the judge had given them the date, Samuel Udoetuk and the other suspects were leaving the box to go back to their cells when father of Priscilla Blessing got closer to them and attacked the key suspect.
READ ALSO
The police and prison officers had to come in and escort the family out.
Ina-Thalia said everyone in the court supported the action of the father.
Francis Bentum told Joy News that their families feel deceived into believing their daughters were dead.
"We are tired of always telling us that our children are dead. If they are dead, produce their bones but you have refused and not ready to prosecute these criminals too.
"Even if it would take me to sacrifice my blood to see these children alive, I will do it. Either I go to Nigeria to deal with the Ghana government physically or spiritually, I will do it," he said angrily.
Here's everything you need to know about how this unfortunate incident happened.
First to be kidnapped was Priscilla Blessing Bentum, 21 years, on 17th August, 2018 at Kansaworodo
Second to be kidnapped was Ruth Love Quayson, 18 years, on 4th December, 2018 at Butumagyebu junction
Third to be kidnapped: Priscilla Mantebea Koranchie, 18 years, on 21st December, 2018 at Nkroful
Sam Udeotuk Wills, a Nigerian on 22nd December, was arrested at Kasaworodo two weeks after the kidnapping but escaped on 30th December, 2018.
Between 1st to 3rd January, social media and traditional media took up the issue demanding investigation into the kidnappings and the escaping.
First demonstration by relations and friends of kidnapped girls as well as Takoradi residents demanded investigation and prosecution of officers on duty on 4th January morning.
On the same 4th January, 2019 after a two-week ultimatum was given for officers on duty to produce him, the police rearrested the escapee, Sam Udeotuk.
Suspect appeared before Takoradi District Court on 9th January, 2019 on charges of Escaping Unlawful Custody, Resist Arrest and Destroying public property which he pleaded not guilty and was remanded.
Suspect reappear before court on 16th January, 2019 on charges.
The CID boss, COP Maame Yaa Tiwaa Addo-Danquah announced that the police have found the girls and they know their whereabout
In August 2019, suspect admits to kidnapping 3 girls.
Rotten human parts were found behind the house of the accused suspect Sam Udoetuk Wills who lived at Kansaworodo in Takoradi.
Government commences process of testing the DNA of the body parts that were found.
On 16th September, the acting IGP announced that the DNA results confirms the death of the girls.