US rapper Kanye West has held a meeting with Donald Trump – with the president-elect saying the pair discussed "life".
They posed for pictures after the Trump Tower get-together on Tuesday.
The reason for the meeting was not made clear, and neither answered questions on whether West would perform at Mr Trump's inauguration next month.
Mr Trump said the pair were "just friends", adding that West – who has recently spent time in hospital – was "a good man".
Asked why he was not speaking during the photocall, held in the lobby of the tower, West replied: "I just want to take a picture right now."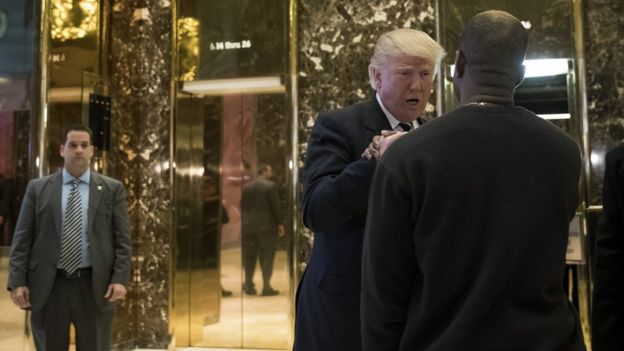 The pair clasped hands as West departed following the photocall
The singer, who was admitted to hospital with exhaustion, has previously revealed he did not vote in the US presidential election – but that if he had, he would have chosen Mr Trump over Hillary Clinton.
He was booed at a concert in California in November after declaring his support for Mr Trump.
A spokesman for Mr Trump said the president-elect had "enjoyed catching up" with his "long-time friend" on Tuesday.
There has been speculation over who might perform at the January inauguration, following reports in the US that Mr Trump is struggling to find A-list stars to play at the event.
The topic of the inauguration was not addressed during a media briefing held by Mr Trump's press team, however.
West arrived at the New York building with a small entourage, but his wife, Kim Kardashian West, did not accompany him.