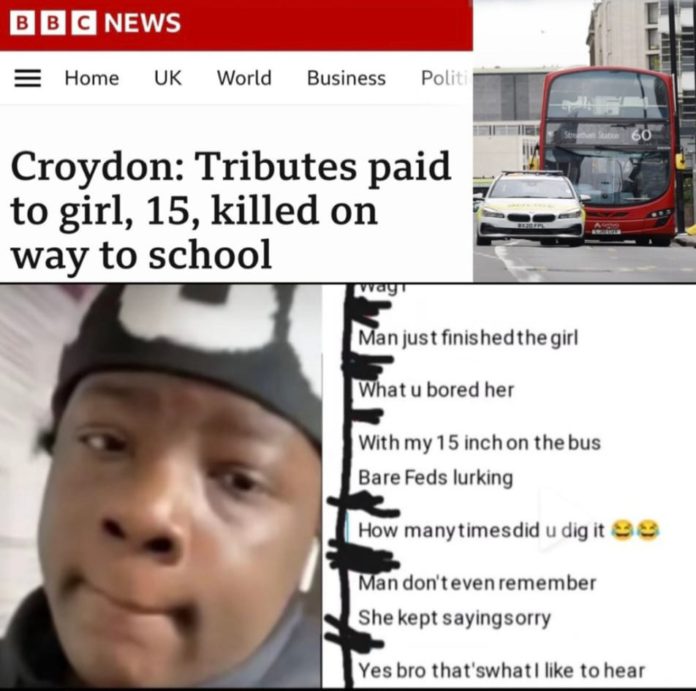 A 17-year-old boy has appeared in court charged with the murder of a 15-year-old girl who was stabbed to death on her way to school.
Her family visited the scene where she died in Wellesley Road on Thursday evening as crowds gathered outside the police cordon and prayers were said.
The youth, who is also charged with possessing a knife, appeared at youth court sitting at Croydon Magistrates' Court today.
Wearing a grey tracksuit, he was remanded into custody to appear at the Old Bailey on October 3.
Ellyanna was fatally wounded in the neck after she disembarked a bus on Wellesley Road in Croydon, at around 8.30 am on September 27.
The suspect was arrested a little over an hour later in New Addington.
A picture with text messages has appeared allegedly between the 17-year-old boy and his friend after the gruesome murder of 15-year-old Ellyanna.
The contents of the messages read:
Murderer: Man just finished the girl
Friend: What u bored her
Murderer: With my 15-inch on the bus Bare Feds lurking
Friend: How many times did u dig it
Murderer: Man don't even remember, she kept saying sorry
Friend: Yes bro that's what I like to hear.