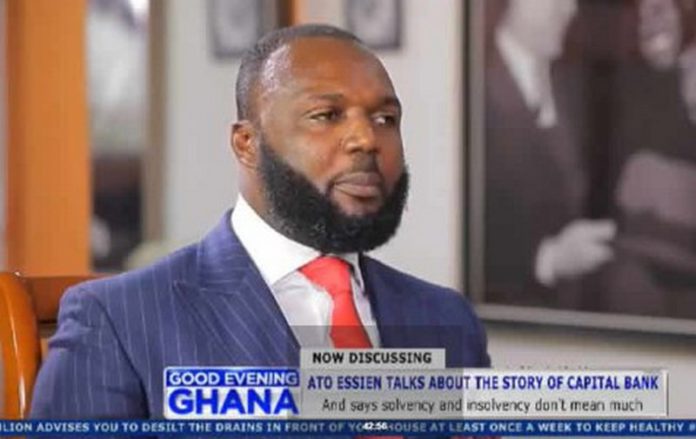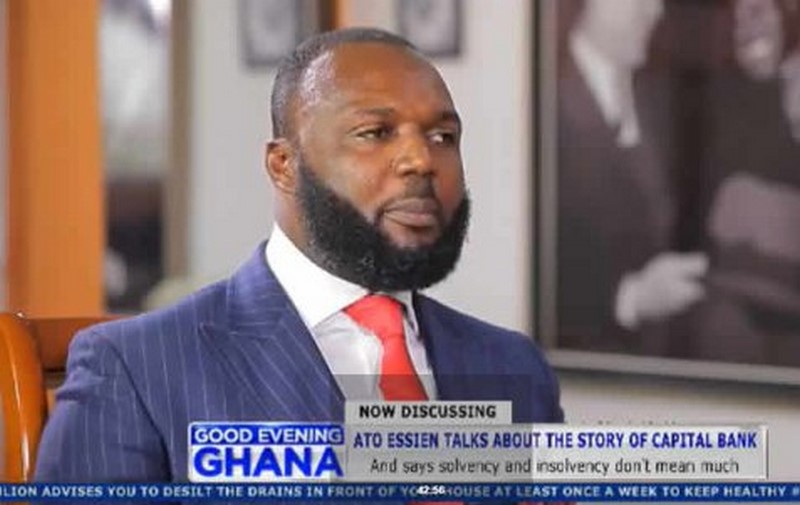 Founder of defunct Capital Bank, William Ato Essien and three others, have pleaded not guiltily to 26 charges including stealing of various sums in excess of GH¢260 million.
The three are Managing Director of MC Management Services Ltd, Dr Tetteh Nettey; former Chief Executive Officer (CEO) of the Bank, Fitzgerald Odonkor and CEO of Reroy Cables Ltd, Kate Quartey-Papafio.
Attorney-General Gloria Akuffo presented the facts of the case to an Accra High Court presided over by Justice Eric Kyei Baffour.
She told the court that liquidity support amounting to GH¢620 million handed by the Bank of Ghana to revive Capital Bank was appropriated (GH¢27 million) and transferred to various companies owned by Mr Essien.
Part of the liquidity support, according to the AG, was also presented by MC Management Services (owned by Mr Essien according to AG) as initial capital to get a banking license for the defunct Sovereign Bank.
ALSO: Audio: Show prove Mahama said he will scrap free SHS and I'll resign – Asiedu Nketia
An amount of GH¢70 million, she further stated, was sent into the private account of businesswoman Kate Papafio. She said the businesswoman then created an account at Capital Bank and transferred the amount into that account.
Following the bank moving into receivership, the AG said Mrs Papafio attempted to withdraw the money but was blocked from doing so.
The charges filed include conspiracy to steal, citing Messrs Essien and Nettey acting together between October and November 2015 in Accra to steal GH¢100 million belonging to Capital Bank. 
There is also the charge of abetment which cited Mr Odonkor assisting Mr Essien and Mr Nettey to dishonestly appropriate Capital Bank's GH¢100 million between the same timeline. 
The four were also cited for laundering money between October and November in 2015 in Accra as they converted GH¢100 million knowing it was proceeds of crime.
ALSO: Listen: Mahama goofed on shutdown of radio stations – Ursula Owusu-Ekuful
Legal Representation
The State's legal team included Gloria Afua Akuffo, the Attorney-General, Yvonne Attakora Obuobisa, Director of Public Prosecution, Evelyn Keelson, a Chief State Attorney, Marina Appiah Opare, Chief State Attorney and Penina Asa Danquah also a chief state Attorney.
Private legal practitioner Baffour Gyewu Bonsu Ashia held Thaddeus Sory's brief for Messrs Essien and Nettey.
Justin Amenuvor represents Fitzgerald Donkor while Dr Dominic Ayine with Kobina Tahir Hammond representing Kate Quartey-Papafio.
Bail Application

The defence lawyers made applications for self-recognizance bail saying their clients will cooperate with the court and show up for trial when needed.
Dr Ayine further stated that the case will be "a groundbreaking case" since it's the first time stealing has occurred with the consent of the owner.
Former Deputy-Attorney General said the GH¢620 million described as liquidity support was a loan to be paid with interest. He further stated that Mrs Papafio engaged in legitimate banking transactions.
He said nothing stops a lending institution from lending money to an individual for that same money to be invested into the bank.
The AG did not oppose the application for bail. She, however, stated that adequate conditions should be set by the court.
ALSO: Missing at sea: Police investigate disappearance of two
Court rules
Justice Kyei Baffour granted the defendants bail to the tune of GH¢200 million each. They are each to provide four sureties. Defendant Papafio was also granted bail to the tune of GH¢75 million.
He further ordered that all documents to be used in the course of the trial should be handed to the defence lawyers in line with disclosure as decided by the Supreme Court and directed by the Chief Justice by November 13.
Case adjourned to November 20, for case management conference.
Source: Ghana|Joy News court reporter|Joseph Ackah-Blay