A number of local broadband providers have constituted themselves into the Broadband Communications Chamber (BCC) and are advocating for stronger local content policies that would give Ghanaians in the industry some protection and exclusive right to a sizable portion of the broadband market industry.
The founding members of the group are the three Broadband Wireless Access licensees, namely Surfline Communications, Blu Telecoms and Broadband Home. The fourth member is K-NET.
Prospective members would include ISPs, Google, MainOne, Huawei, ZTE, Nokia, Ericsson, Dolphin, Gilat, Comsys, Glo, Teledata, some individual ICT experts, companies which depend mainly on broadband to offer services and even the telcos who are actually ISPs and offering mobile broadband services.
They also look forward to liaising with the National Information Technology Agency (NITA), Alliance for Affordable Broadband (AAB) and the UN Broadband Commission to ensure accessible and affordable broadband across country.
NCR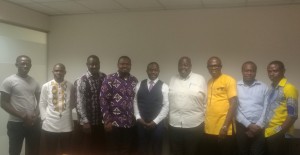 At a meeting with executives of Network of Communication Reporters (NCR), Leadership of BCC expressed their keenness on advocating for stronger policies that properly place local companies in the mainstream telecom, broadband and ICT industry.
They contend that broadband communication is the key to bridging the digital divide and driving real national development, but that cannot happen without proper and significant local involvement.
"And local content in this context is not just employing locals in foreign-owned telecoms companies or passing on 'piece meal' contracts to locals in the industry, but government stepping up with policies that give locals exclusivity to particular contracts and the right to control a specific sizable part of the industry," they argued.
The BCC has put across a number of policy proposals they believe are necessary, if Ghana would be able to effectively bridge the digital divide and derive the full potential of broadband communication for its development agenda.
Indeed, the World Bank has said that 10 per cent growth in broadband (not just data or telecoms) leads to one per cent growth in GDP, and BCC believes locals have a key role to play in achieving that.
Quota system
The Chamber is therefore proposing a quota system in the telecoms/broadband industry, to ensure that locals own a specific chunk of the market/industry.
"Even in the US, which is the mother of capitalism, successive governments have been consistent in pursuing proper local content through a quota system to protect their own. In the US, no government job is given to a foreign company. The worst is for a local company to have a foreign partner; the rationale is to ensure that citizens remain the de facto owners of spectrum," they argued.
In line with that, BCC suggests that government should ensure that
the local government institutions, specifically the Metropolitan, Municipal and District Assemblies (MMDAs) use locally-owned companies for their broadband services.
"It is okay for the locally-owned entities to partner foreign companies of their choice to deliver on such contracts, but such contracts should be reserved for the locals," they argue.
State funding
There have been suggestions for government to refocus organizations like the Ghana Infrastructure Investment Fund (GIIF) and SSNIT to invest in local broadband companies to build and expand infrastructure across the country and spread broadband nationwide, with last mile infrastructure that helps to bridge the digital divide.
BCC believes that suggestion would not be a bad idea since broadband expansion is a capital intensive venture and locals may not have the financial muscle that foreign entities do have.
"We have technology and expertise and we have that track record to show for it but funding is critical. The international community tend to lend to foreign MNOs (mobile network operators) so it would not be a bad idea for our government to also support us with funding to deliver value for the country," they said.
They argued that the mainstream telecom operators are preoccupied with what is commercially viable and so their commitment to providing last mile infrastructure is low "but we are locals and we are committed to taking broadband to the remotest parts of the country if only we can get the needed support."
"You can build all the big infrastructure but if you don't provide last mile to take the service into people's home, everything you have built is virtually useless – that is where we come in – and the record is there to show that even as of today, most of the last mile infrastructure in the country are being provided by us the locals," one said.
Reduce CST
BCC also thinks the Communication Service Tax (CST) must be reduced drastically because it does not encourage affordable service, particularly for the broadband sector, which has very low penetration and needs to offer affordable service to improve usage.
Even telcos, which say they bear the cost of the CST on behalf of their customers, support the need to abolish or reduce it because eventually they would have to pass it on to their customers.
"Currently we have just about 300,000 real broadband users in the country, which is very low compared to the millions of mobile voice and mobile data users reported monthly by the NCA," BCC noted.
They argue that national development everywhere rides on the back of broadband and not necessarily mobile data which can be supported by even 2G technology; so it is important that government policy supports affordable broadband to boost penetration.
Still on boosting penetration, BCC also wants all import duties and levies on terminal devices like phones, tablets, Mi-Fi's, modems and others removed to ensure affordability and usage, as that also have the potential of helping to improve penetration.
Tax holiday
The Broadband Communications Chamber is also asking for tax holiday for local start ups and local broadband companies to allow them space to grow.
They believe that five to 10 years tax holiday for local broadband players, would go a long way to grow the sector because with the locals, government is sure of reinvestment of earnings into the economy because the problem of capital flight is nonexistent as far as they are concerned.
They believe there is need for government to also guarantee locals some time and space of exclusivity so they can invest and expand confidently without the threat of competition from foreign giant players in the local industry.
It would be recalled that three years after BWAs got their 2600MHz spectrum licenses for 4G at US$6million each, the NCA licensed telecoms market leader MTN with another 4G spectrum, 800MHz, which generated huge outcry by BWAs but to no avail.
The NCA, under the previous government attempted, in the last minute, to correct some of the wrongs by allowing the BWAs to start voice services to shore up their revenues, but that was suspended.
They therefore look forward to the NCA, under the new leadership to take that matter up and execute it in the interest of local content.
Monthly broadband reporting
Speaking of NCA reports on data penetration, BCC questioned why the NCA does not report on broadband penetration specifically, to give investors and even government the right picture about broadband status in the country.
They, for instance, noted that there was no justification for NCA to report only on BWAs offering 4G services and leave out MTN, Busy Ghana and Telesol which also offer 4G services.
BCC is therefore hoping the NCA would begin to publish quarterly reports on broadband figures and penetration separately to aid government and investors in their decision making.
The Chamber intends to hold a national broadband forum to discuss what the national broadband strategy is, who is monitoring the set targets and how to derive maximum benefit from the broadband resources.
Meanwhile, the NCR executives informed the Chamber of plans by NCR to use its next Industry Dialogue Series to discuss the current status of the 4G environment, its impact on consumers and lesson learnt to inform policy adjustments where necessary.