President Nana Addo Dankwa Akufo-Addo has lifted the ban on churches with a maximum of 100 congregants.
The President announced this during his 10th Covid-19 address Sunday night.
He explained that churches ought to disinfect their places of worship to ensure maximum safety. The order takes effect from Friday, June 5.
The church service must last for one hour.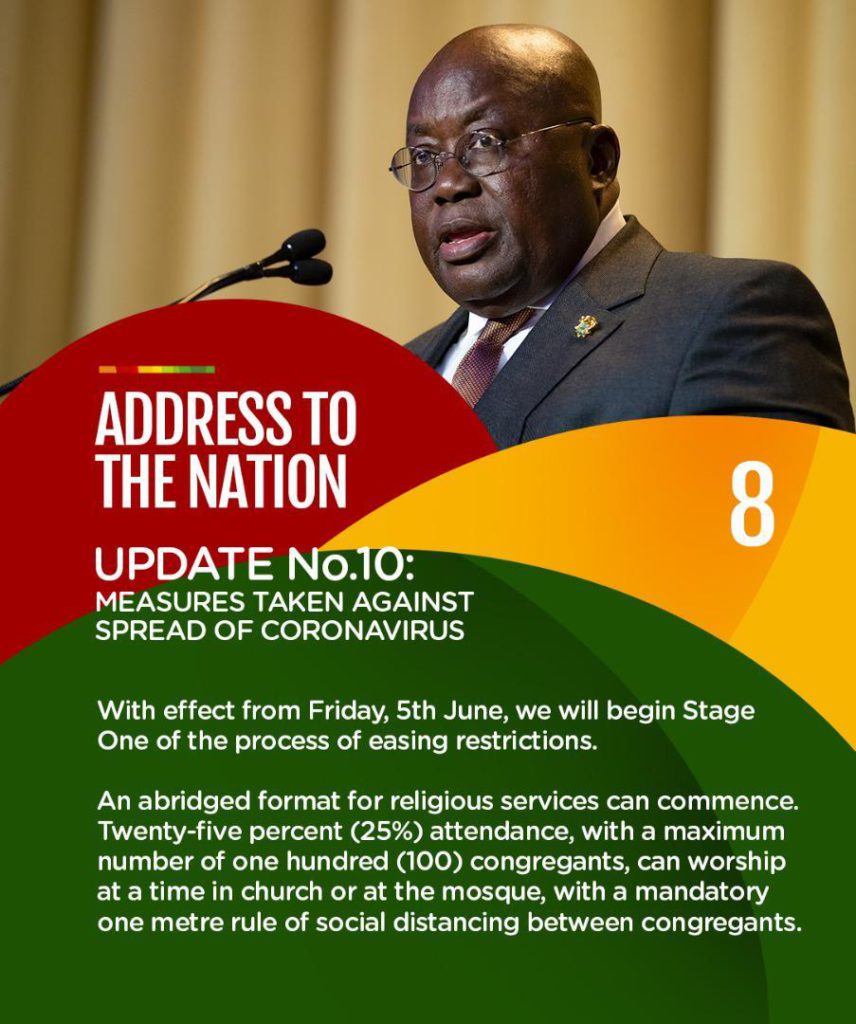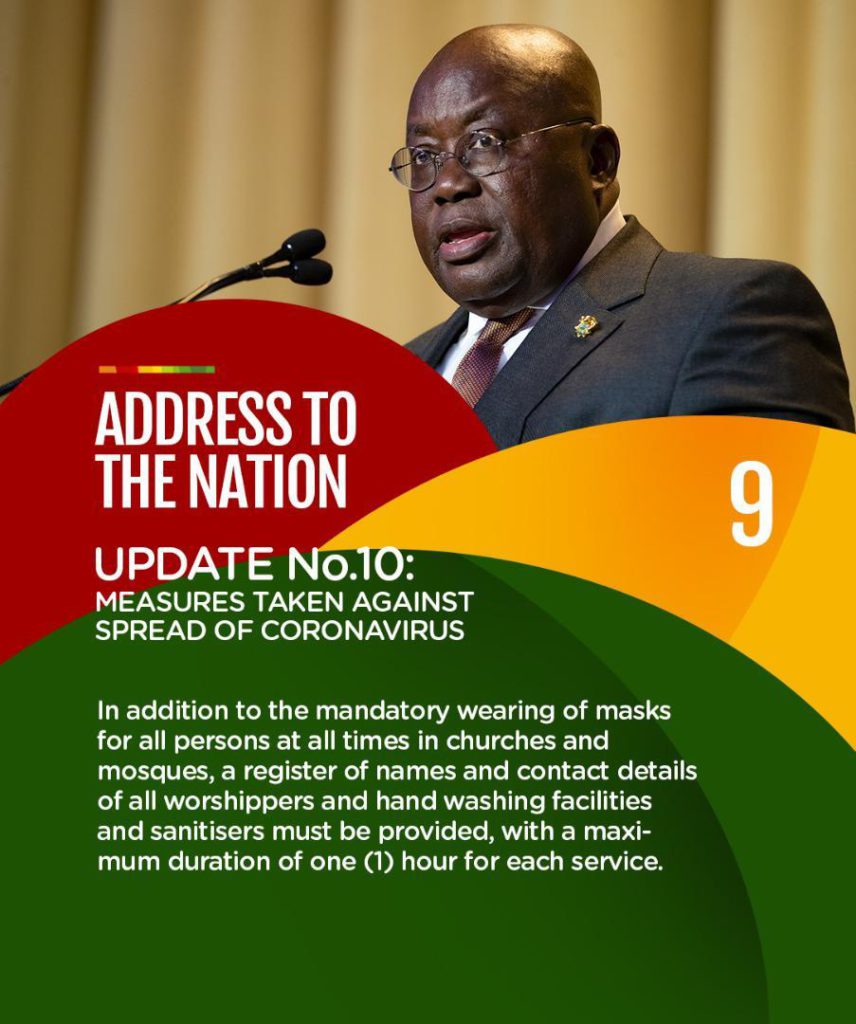 Warning
: simplexml_load_file(https://www.youtube.com/feeds/videos.xml?user=adomtvtube): failed to open stream: HTTP request failed! HTTP/1.0 404 Not Found in
/opt/bitnami/apps/wordpress/htdocs/wp-content/plugins/td-standard-pack/Newspaper/parts/single/loop-single-13.php
on line
89
Warning
: simplexml_load_file(): I/O warning : failed to load external entity "https://www.youtube.com/feeds/videos.xml?user=adomtvtube" in
/opt/bitnami/apps/wordpress/htdocs/wp-content/plugins/td-standard-pack/Newspaper/parts/single/loop-single-13.php
on line
89
Notice
: Trying to get property 'entry' of non-object in
/opt/bitnami/apps/wordpress/htdocs/wp-content/plugins/td-standard-pack/Newspaper/parts/single/loop-single-13.php
on line
92
Warning
: Invalid argument supplied for foreach() in
/opt/bitnami/apps/wordpress/htdocs/wp-content/plugins/td-standard-pack/Newspaper/parts/single/loop-single-13.php
on line
92

Warning: simplexml_load_file(https://www.youtube.com/feeds/videos.xml?user=adomtvtube): failed to open stream: HTTP request failed! HTTP/1.0 404 Not Found in /opt/bitnami/apps/wordpress/htdocs/wp-content/plugins/td-standard-pack/Newspaper/parts/single/loop-single-13.php on line 104

Warning: simplexml_load_file(): I/O warning : failed to load external entity "https://www.youtube.com/feeds/videos.xml?user=adomtvtube" in /opt/bitnami/apps/wordpress/htdocs/wp-content/plugins/td-standard-pack/Newspaper/parts/single/loop-single-13.php on line 104

Notice: Trying to get property 'entry' of non-object in /opt/bitnami/apps/wordpress/htdocs/wp-content/plugins/td-standard-pack/Newspaper/parts/single/loop-single-13.php on line 106

Warning: Invalid argument supplied for foreach() in /opt/bitnami/apps/wordpress/htdocs/wp-content/plugins/td-standard-pack/Newspaper/parts/single/loop-single-13.php on line 106