Angry residents at Kwadaso Estate in Kumasi have vowed to close to traffic a partly collapsed bridge that links the community to the rest of the city.
They accuse the Urban Roads Department of failing to respond to repeated appeal to repair the structure which has become a death trap.
There are reports three people have drowned in flood water in the last four years because the bridge cannot contain running water whenever it rains.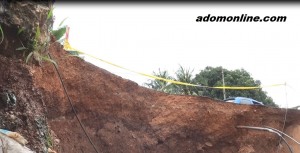 This is one of the main culvert bridges constructed over the Kwadaso stream.
It is the main outlet for waste and running water from the community and nearby Patasi, Sofo Line and Kwadaso Nsuom.
Soil around the three -culvert bridge which facilitates water flow has been washed away.
Residents who live on the other side of the bridge are compelled to remain in their homes any time it rains until flood waters recede.
"The latest to die here is this young man. He was coming from Kwadaso and it happened that there was light out and the river had over flown its banks , when it over flows, all this place is flooded. So he tried going through it was possible. As he go through, it swept him and we later found him [body] at the other end," Kwame Asante, a resident revealed.
The condition of the bridge continue to deteriorate, exposing motorists and pedestrians to danger.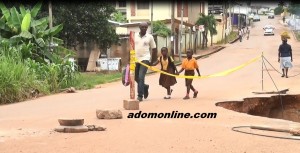 Deep cracks in the structure have forced soil under the culverts to cave in, creating crater-like hole beneath the bridge.
A resident, Stephen Awuah says one needs no magician to tell him about the bad condition of the bridge.
"It is gradually dilapidating. You don't need a magician to tell you so we are appealing to the government to come to our aid."
For fear of his kids fallen into the stream, he has had to abandon work to help send his two children to school to Kwadaso every day.
His fear is shared by another resident, John Maclean who drives everyday on this life-threatening bridge.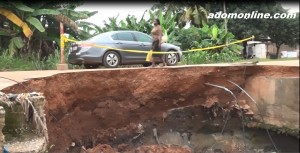 "Every blessed day I use this road but the road is not good. It's dangerous to our health. It is very, very dangerous," he complained.
Half of the road at that section becomes unmotorable, amid fears any part of the remaining structure can cave in at any time.
Residents say several appeals to the Urban Roads Department to fix the broken culvert bridge have fallen on deaf ears.
For them the only way to protect life and property is to close the road to use.
"Half of the road is eaten away. We can't be using this bridge. It has to be pulled down and new one constructed," says Mr. Asante.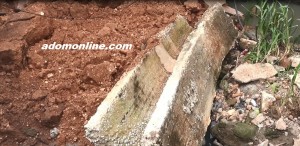 "School children and motorists use this bridge. Those of us who live  close don't want any more disasters. We have decided to close the bride to traffic to save lives". Mr Samuel Kwakye, a resident said.
Nana Gyamfi is another resident: " We will block the road. It is dangerous to use the bridge. There's  a big hole under the structure. It can pass for a galamsey pit. It can cave in anytime."
Assemblyman for the area says the bridge has been awarded on contract for reconstruction.
He says work will commence as soon as repairs of a similar bride on the Patasi-Edwinase Road is completed.
Ashanti Regional Director of the Urban Roads Department, Francis Gambrah, confirms the contract award.
Click on attached audio for full report