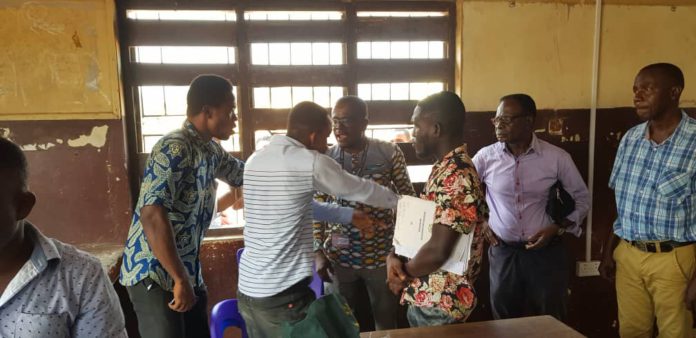 The Elmina Police has arrested an officer of the National Identification Authority (NIA) for assaulting Adom News correspondent, Justice Kafui.
The NIA official assaulted Kafui for taking visuals of the ongoing registration exercise at the Local Council M/A Basic School Registration Center.
The journalist had gone to the centre to report on the registration exercise only to meet the NIA officers closing registration at 1:15pm, while stranded applicants were complaining bitterly.
In his attempt to speak with the aggrieved applicants and also capture the scene, the NIA official, whose name was only given as Ralph, pounced on him, manhandled him and took his phone, as depicted in video captured by one of the aggrieved applicants.
Kafui explained to him and his colleagues that he was a journalist, and actually showed them his ID card, but suspect would not budge.
The Reporter had to call the Elmina Police to come to his rescue.
The police took the phone from Ralph and handed it over to Kafui, after which the police took statements from both suspect and victim and decided to detain suspect.
According to Kafui, after examining his phone he realized the suspect deleted the videos he took at the registration center and other important videos he had on the phone prior to going there.
The police were said to have told the suspect that he had no right to manhandle a journalist working in a public place like a national registration center, much less taking his phone and deleting stuff from it.
The police told him he needed a court order before tampering with the victim's phone.