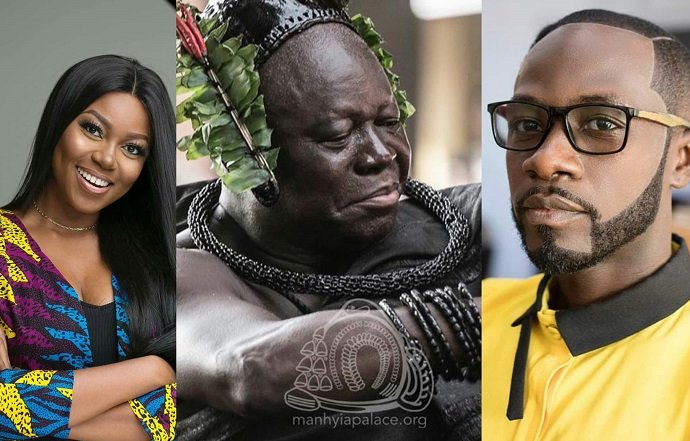 Ghanaian actress Yvonne Nelson decided to school rapper Okyeame Kwame after he posted a message about the King of the Ashanti Kingdom, Otumfuo Nana Osei Tutu II during his 20th anniversary, tagging him as a "God".
The rapper took to Instagram to eulogise the Asantehene, but Yvonne, who wasn't too comfortable with the rap doctor's eulogy, asked him to correct the "G" in his statement.
According to her, its blasphemous for the Kumasi-based musician to liken Otumfuo to God, who created the world and everything in it.
These were the words of Okyeame Kwame on Instagram before Yvonne Nelson's reaction (below):
SEE THIS: Video: Kuami Eugene, Kidi not competition at Lynx – DopeNation
"Watching the dance carefully, Nana is communicating with his gestures, let me try and explain. He says the Left and Right is all mine. All things come together because of me, everything is mine. It was given to me by God, I have dominion on all things because I am a God. I am in God and God is in Me. Happy Birthday, Otumfuo Osei Tutu Nyame Keseɛ, we wish you longer life, peace and prosperity. May Otwediampon Kwame, who lives in you, multiply your territories. Thank you for showing the African how to live with PRIDE and AUTHORITY. You are ROYAL. Piaaaaaaaw." 
Yvonne Nelson's reaction which caused a debate on Okyeame Kwame's wall was: "Pls correct it!!!! hes not God! With the capital G. Theres only one God!"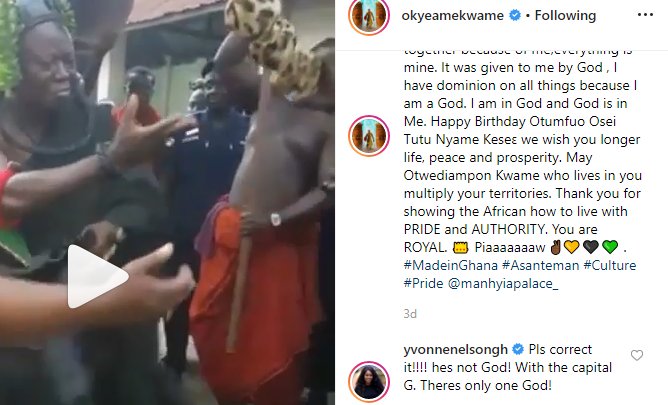 ALSO SEE: Photo: Davido exposes 'sakawa' boy
It didn't end there as Okyeame Kwame in a riposte explained to Yvonne that, "it is intentionally written like that. The Offspring of a lion is a lion . The child of God is God🤗. Pls the spirit of God is in Man so Man is God's representative on earth . That means Man is God . There is no separation between God is His Children . Christ said exactly what I am saying today and People were afraid to understand it . John 10 30 . I and My Father are one . Pls think about it carefully. "
But again the mother of one couldn't hold back herself, hence told the rap doctor clearly that "I'm sorry bro, go check this one out! That's blasphemy. Anyone who thinks otherwise can decide to stay in their ignorance. We know the true G' GOD."
Trying to end the debate, the 'Made in Ghana' rapper explained that:
"Sister Yvonne, We all experience God differently . Non of Us can tell how the next Person should feel and or understand God . God is a part of Us . He is Us . We are Him . U see when I was a kid , I was told that I am Man and God lives in Me . But I have grown up to understand that no . The life in Me is nothing but God's active force . So I am God and this body lives in Me . It's not about calling names ( ignorance) it's about understanding and Perspective . Read Your Bible Well . Psalm John 10 30."
READ: I'll accept my ex-husband back if only to kill him – Tonto Dikeh
He continued that "Sister Yvonne because of the presence of God in Man I think it is disrespectful to refer to Man as a Small God (god) because it diminishes the God in Man . I would refer to a River as a small god or a deity as a Small god but Man is a Big God. Pls ask Yourself Who came up with the concept of Small god and big God ? What was their motive ? Was it for differentiation or to diminish the Africans Idea of Her greatness ? I love Me . I know Me. God lives in Me."
Yvonne went mute for a while leaving rapper Trigmatic to support her assertions saying, "indeed there's only one God."
The debate ended with Yvonne Nelson's reply to Trigmatic, which was "
"Bro, I'm smiling. I'm happy we are in this place."
Okyeame Kwame's last comment to the back and forth was "hmmmm U are right. People don't understand that nobody should force their religion on others. We all experience God differently. I rest my case [sic]."
Source: Adomonline.com/ Dennis A.