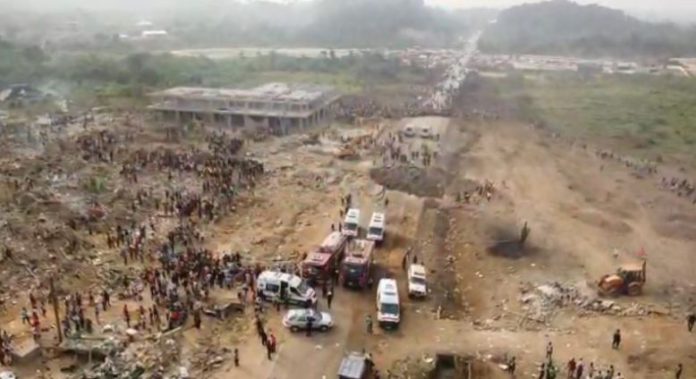 Some celebrities have taken to social media to commiserate with families of the victims of the Apiate explosion, which occurred on January 20.
Thursday's incident occurred when a truck conveying mining explosives collided with a motorcycle and a third vehicle close to an electricity transformer.
As a result, the town was reduced to rubble in the blast, killing some inhabitants and injuring many.
So far, over 500 homes have been affected by the blast and 17 people were confirmed dead by the Information Ministry, with about 59 injured as of Thursday.
But updates coming from the region indicate that the casualties could increase.
Reacting to the updates, musician Fuse ODG, who called the incident devastating, sent love and prayers to the affected families.
"I hope measures are put in place to avoid this from happening again," he wrote.
Also reacting to the explosion was rapper Sarkodie, who prayed to God to heal the families of the deceased.
Read other reactions below:
Meanwhile, Vice President, Dr Mahamudu Bawumia, has assured that measures are being put in place to construct temporary housing facilities for all displaced residents of Bogoso-Apiate.
He says the government has engaged the State Housing Corporation and mining companies to provide an instant haven for the stranded community members in the coming days.
Dr Bawumia said this when he led a government delegation to ascertain the state of affairs in the community after a vehicle carrying mining explosives exploded and reduced the whole settlement to ground zero.