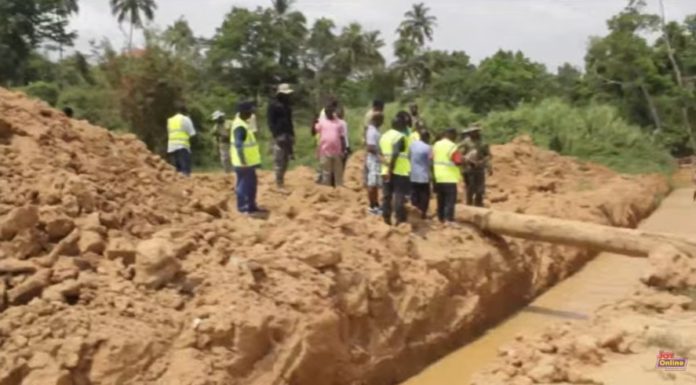 There was pandemonium at the Anyinam police station in the Atiwa East District of the Eastern region after the arrest of two illegal miners on Wednesday.
The miners were arrested by the taskforce and national executives of the Ghana National Association of Small-Scale Miners (GNASSM) who are on a tour in the area.
This was at a time the taskforce inspected the progress of work to ensure the Birim river is clean after its formation four months ago.
They had their site located a few meters behind the Anyinam police station.
These illegal miners who mostly operate at night have dug huge trenches just five meters away from the main Accra-Kumasi Highway, a situation which is currently posing threat to hundreds of commuters.
The National Executives of GNASSM together with their task force moved the suspects to the police station to hand them over to the security operatives.
Other illegal miners who were present, however, resisted the action and massed up at the Anyinam police station which resulted in chaos between some youth led by Koshow and the taskforce team.
Speaking to the media after visiting some sites in the Fanteakwa South District,  the National President of GNASSM, Philip Akuffo, called for the immediate arrest of all illegal miners whose sites are close to the highway.
ALSO READ:
Illegal miners block Birim River
7 illegal miners arrested at Asuogya
The DCE for Fanteakwa South, Ernest Ofosu, commended the taskforce and the leadership of GNASSM for their action to complement government's efforts to combat illegal mining activities.
He pledged his commitment to support the taskforce achieve its aims.
Susan Danquah Tete, the Regional Women Coordinator, expressed her dissatisfaction about the spate of destruction caused by illegal mining to the Birim river which they used to tarnish the image of small scale miners.