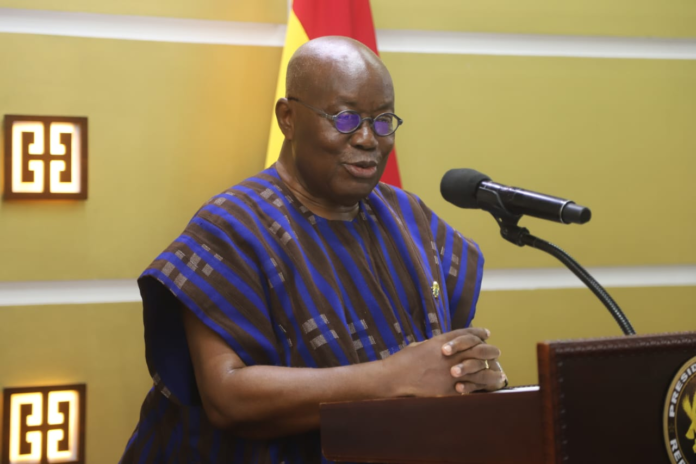 President Nana Akufo-Addo says certain conditions that prevailed in the country forced his government to run to the International Monetary Fund (IMF) for a bailout.
Speaking for the first time since the approval of the bailout, President Akufo-Addo debunked claims his government sought the support as a result of economic mismanagement.
According to him, Ghana is not the only African country to seek a bailout from the IMF.
He noted 29 other African states, the latest being Tunisia and Ivory Coast, have programmes with the IMF.
The President mentioned the four-year power crisis 'dumsor' that his government inherited from the administration of the National Democratic Congress and the COVID-19 pandemic as some of the prevailing conditions that compelled the NPP government to seek the IMF programme.
According to him, his government had creditably performed well before COVID-19 struck.
He wondered if all the other countries seeking a bailout can be described as having mismanaged their economies.
According to the President, it is unfair to tag his administration as mismanaging the economy.
On Free SHS
Speaking on the Free SHS policy, President Akufo-Addo teased former President John Mahama for what he termed as inconsistencies in discussions on the Free SHS.
According to him, the NDC flagbearer has now shifted his argument from cancelling the programme to expanding it to include private second-cycle schools.
The inconsistencies, he said, do not make former President Mahama trustworthy.
President Akufo-Addo, who was speaking at a rally organised by the New Patriotic Party ahead of Tuesday's Kumawu by-election, said the NDC would be day-dreaming to think of winning power in 2024.
Delivering on mandate
Meanwhile, President Akufo-Addo says he is satisfied with the achievements of his government.
According to him, with 19 months to end his tenure, he can hold his head high for the performance of his government.
"I have 19 months to go; 19 months to complete the work that you gave to me in 2017. We've done a lot of the work already. Those who have eyes to see can see that we've done the work already.
"But those who don't want to see, those I cannot help them. But those who have eyes to see, they know that we have done the work and continue to do them," he said.
According to the President, his tenure would come to an end at the time NPP had chosen his successor, devoid of division.