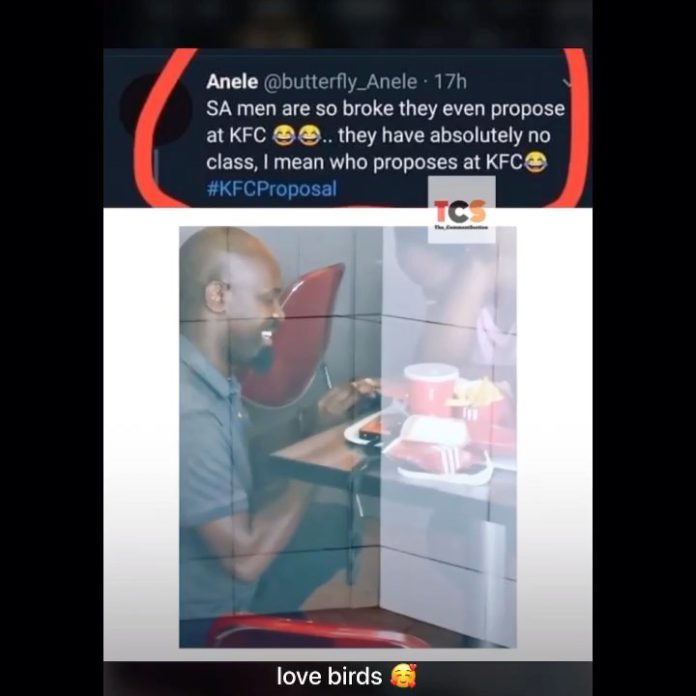 A man proposed to his girlfriend at Kentucky Fried Chicken (KFC), but unknown to him an anonymous person took videos to mock them.
What was expected to be mockery became a blessing in disguise for the South African (SA) couple.
READ ON: School is a major scam – Graduate says as he burns his certificates into ashes
The video which went viral on social media caught the attention of strangers, celebrities and companies who have offered to sponsor the yet-to-be planned wedding.
The couple's breakthrough started when KFC SA launched a campaign with the hashtag #KFC proposal to locate them after their engagement went viral.
ALSO: Opinions don't make sense to me – Pete Edochie slams critic
Their blessings became overwhelming as prestigious brands like Standard Bank SA, Huawei Mobile SA, Castle Milk Stout, Audi SA and Coca Cola offered to share in their joy.
A marriage proposal at a KFC restaurant in South Africa went viral after the fast food joint tweeted the proposal video, seeking help in finding the couple.
READ: I will give birth in 2022 – Delay

A journalist mocked the man for being 'broke' in one of her tweets, and social media started showering the couple with blessings.