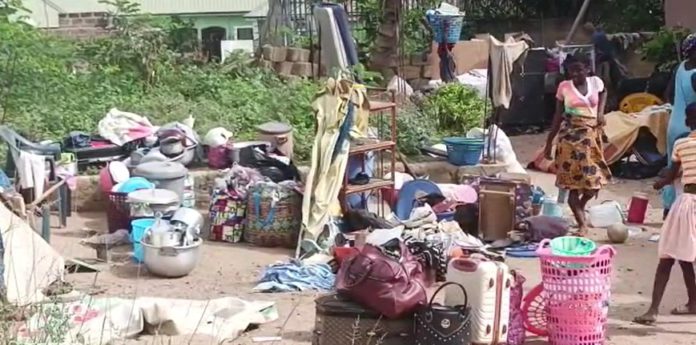 Five persons were left unconscious, over 500 residents of Suncity, a suburb of Buduburam rendered homeless following their eviction by a litigant of a land dispute.
The residents lamented that they were not given prior notice or time to relocate from the area.
It was such an emotional scene when residents collapsed as task force and police ordered them out.
Personal belongings of the affected persons were thrown out of their rooms and entrances locked with fresh padlocks provided by the litigant.
The litigant claims to have won a court case against property owners of the area.
Some stranded residents, who shared their frustrations to Adom News, said the Central East Regional Police Commander did not update them on the process only for them to be evicted abruptly.
Meanwhile, angry Gomoa East DEC, Solomon Darko Quarm, said the land owner failed to serve the Assembly and used dubious ways to evict the occupant.
Currently, there is heavy security presence intended to ensure calm in the area.