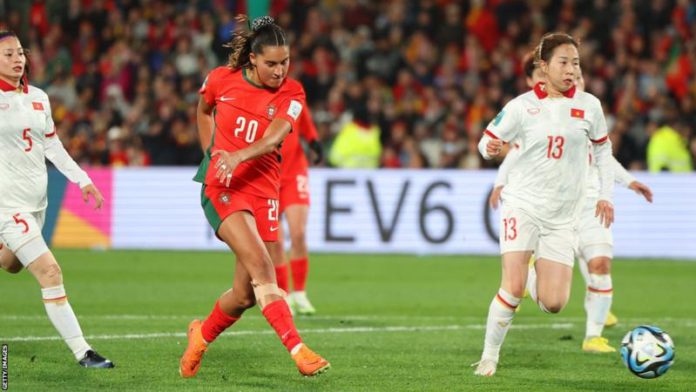 Portugal earned a face-off with reigning champions United States for a place in the Women's World Cup last 16 with an impressive win over Vietnam.
The debutants got their maiden victory via their first World Cup goals, scored by Telma Encarnacao and Kika Nazareth.
Portugal will progress to the knockout stages if they cause a giant upset and beat four-time winners the USA.
Vietnam are eliminated from the World Cup after this loss at Waikato Stadium in Hamilton, New Zealand.
Portugal play the United States in their final Group E match on Tuesday at 08:00 BST, while Vietnam will seek their first World Cup point and goal against the Netherlands at the same time.
Earlier on Thursday, the USA drew 1-1 with the Netherlands in Wellington.
Portugal earn historic first win
The highest of the eight World Cup debutants in the Fifa rankings at 21, Francisco Neto's Portugal have experience at the back and exciting young talent up front – and strength in depth, demonstrated by Neto making seven starting XI changes for this match.
While Vietnam were disorganised and open in defence, Portugal were constantly incisive down the flanks and full of creative ideas.
They were two up inside 21 minutes and could have scored more as they dominated play all game.
Their first Women's World Cup goal came on seven minutes when Lucia Alves' low cross found Encarnacao who converted from six yards.
Nazareth – only 20 years old and now with seven goals for Portugal – doubled the advantage with a smart finish past Kim Tranh.
To say the United States will be more defensively savvy and organised than Vietnam is to state the obvious – but with youth, skill and speed in their ranks, Portugal will be out to cause the biggest upset in women's football history.
Outclassed Vietnam bow out
For Vietnam, it is a disappointing way to exit the country's first World Cup, having done themselves credit with a valiant defensive display against USA.
Here Mai Duc Chung's side looked caught between two stools – knowing this was their best chance of a maiden World Cup win, but still wanting to play their defensively solid 5-4-1 system.
The result was a confused mess which was picked apart time and again by the Portuguese, who should have scored more in the second half. Joana Marchao hit the bar twice, while goalkeeper Kim Tranh made a series of fine saves.
Vietnam at least can take small mercies from a first shot on target at a World Cup – by Bich Thuy on 43 minutes – and even a touch in the opposition box, something they failed to manage against the Americans.