Whether they're in countryside or a post-industrial landscape, Europe's 2017 festival calendar means new events, old favourites, frenzied masses and boutique charm.
OFF Festival, Poland
A small festival in Katowice in south-west Poland, OFF has, over the past 10 years, built an international audience thanks to a challenging and intriguing mix of acts. This year's selection emphasises female artists: singer-songwriters Feist and PJ Harvey headline, while Swedish art pop singer Anna von Hausswolff and classical composer turned electronic producer Anna Meredith are also on the bill. Meanwhile, the experimental poetry and performance project by afrofuturist Moor Mother will undoubtedly be an unmissable show.
• 4-6 August, £55, off-festival.pl
Into the Valley: Estonia, Sweden, South Africa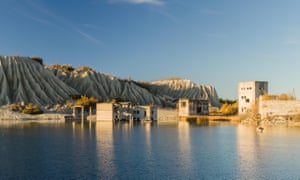 Valley girls (and boys) … the abandoned Rummu quarry in Estonia will become a festival venue in 2017. Photograph: Alamy
Putting location to the fore, Into The Valley launched in 2015 as a discreet electronic music festival held in a stunning limestone quarry in Sweden. The festival is now expanding with incredible ambition, hosting three events at three striking sites. The series will launch at the end of June at a quarry in Rummu, Estonia, with a setting made complete by a derelict prison on a tranquil blue lake, followed by weekends in an abandoned factory in Stora Vika, Sweden and, in January 2018, a festival in South Africa at the Castle of Good Hope, Cape Town. Among the many acts programmed across these are Answer Code Request, Recondite, Sonja Moonear and Magda. If you like a rawness to your party locations, and a festival that's driven by the excitement and intrigue of creating something out of nothing, Into the Valley should be on your radar.
• Estonia, 29 June-1 July €150; Sweden, 10-12 August €150; South Africa 26-27 January €69, musicgoesfurther.com
Melt, Germany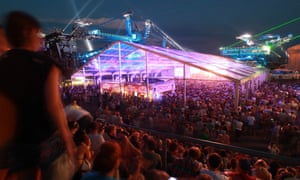 What would Melt be without its notorious "sleepless stage" – a non-stop music marathon that runs from Saturday morning to midday on Monday? The epic German festival for those who love an all-hours party takes place in Ferropolis, Gräfenhainichen, a site scattered with huge pieces of industrial machinery, such as old mining cranes, which are the focus of a light show each night. This year, the festival celebrates its 20th anniversary, bringing 20,000 people together for a festival dominated by techno and electronic music (Aurora Halal, Courtesy, Ellen Allien and Sonja Moonear are all on the bill along with Dixon, Tale of Us and Modeselektor), but with a diverse set of headliners such as M.I.A. and the inimitable South African rap-rave crew Die Antwoord. All that plus a party train from Cologne that also serves as your weekend accommodation, a campsite with actual showers and a lake to cool off in during the day make Melt! a worthy summer alternative to a party weekend in Berlin.
• €140, 14-16 July, meltfestival.de
Nuits Sonores, France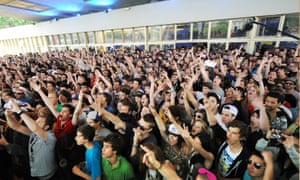 Another electronic music festival celebrating a big anniversary is Nuits Sonores, which has its 15th edition this year. Held in 40 locations in Lyon over five days – from heritage sites and landmarks to the kind of industrial locations that were born for high-production dance music events – the festival draws together cutting-edge music while branching into other creative fields, such as design and architecture. This year the festival has a new venue, the vast Fagor-Brandt factory, which can hold up to 14,000 revellers, and boasts a lineup including a day programmed by The Black Madonna featuring Honey Dijon, the legendary Derrick Carter and one of the most influential underground punk outfits around, Bronx party starters ESG. The rest of the lineup is enviable, featuring everyone from the Chemical Brothers to Syrian wedding singer Omar Souleyman.
• €140 four night and three day pass, 23-28 May, nuits-sonores.com
Primavera Sound, Portugal and Spain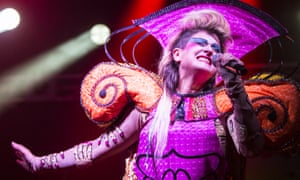 Peaches
Peaches performs during the second day of Primavera Sound 2016. Photograph: Xavi Torrent/WireImage
A festival that has rapidly grown to attract visitors from across Europe with its blend of striking electronic music, guitar-led acts and plenty of sunshine, Primavera Sound takes place in Barcelona and, since 2012, also in Porto, under the name NOS Primavera Sound. Headliners across both cities include US soft-core rockers Grandaddy along with indie-electronic bands Metronomy and The xx as well as rave legend Aphex Twin. The Barcelona edition takes place across six days with an abundance of DJs on call to keep people dancing, while the smaller, three-day Porto festival has Bicep, Nicholas Jaar and Richie Hawtin, who will be doing a closing – no doubt epic – set on the Friday night. Both take place in urban sites, so they're easy to combine with a longer break to the cities. For something smaller, keep an eye out for brand new festival Waking Life, a boutique lakeside get-together with a great lineup of underground DJs (Resom, Aurora Halal, DJ Nobu to name a few),held near the medieval town of Crato, Portugal.
• Barcelona 31 May-4 June, €195; Porto 8-10 June, €110, primaverasound.com
Lowlands, the Netherlands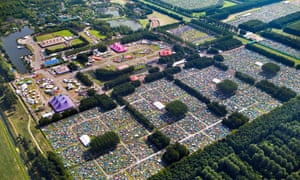 Online music magazine the Line of Best Fit, said of last year's Lowlands festival: "The atmosphere is spot on: no lads, no kids, no trouble, no problem." Sounds good, huh? In 2017 the Dutch music event of the year celebrates 25 years of responsible revelry and a relaxed soft-drugs policy, bringing 55,000 people together for three days of visual art, music, film and "performance" events. In a similar vein to Glastonbury, the festival conceives itself as a micro-city, with its own radio station, newspaper and currency. The lineup has broad appeal, with Alt-J, The xx and Iggy Pop headlining along with DJs including Ben Klock, Nina Kraviz and Robert Hood.
• 18-20 August, €185, lowlands.nl
Meakusma, Belgium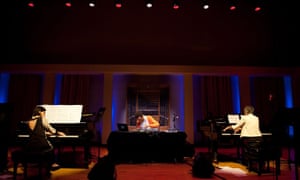 Though it's one of the more niche festivals on the list, this is worth a mention as it describes itself as "three days celebrating the unclassifiable through music, installations and lectures". Now in its second year, Meakusma's lineup features artists, musicians and performers associated with forward thinking and experimental sounds. Names on the bill include Ben UFO – a DJ renowned for his expansive tastes – composer and sound artist David Toop and avant garde producer Lucrecia Dalt. Those after a Belgian festival with a more accessible sound should check out Paradise City in late June, which brings John Talabot, Kornel Kovacs and Âme to a lush site beside Ribaucourt castle.
• 8-10 September, from €50, meakusma-festival.be
UVA Festival, Spain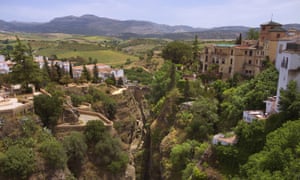 Countryside view from the bridge, Puente Nuevo, in Ronda, Spain. Photograph: Alamy
While Sonar and Primavera Sound are undoubtedly the main events on Spain's festival calendar, one new, absolutely tiny Spanish festival to catch our eye is UVA, thanks mainly to its incredible location. It's held in a 12th-century monastery on a cliff in the town of Ronda, overlooking the Andalucían countryside. The boutique event (capacity 500) run by Moody Collective, has a lineup featuring Rush Hour's Antal, deep psychedelic producer Baris K and a smattering of names that will appeal to those who respect a discerning crate digger, such as Brilliant Corners' Donna Leake and Deborah Ipekel from Sounds of the Universe.
• 2-4 June, from €100, on Facebook
Outlook, Croatia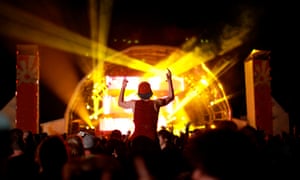 Photograph: PYMCA/UIG via Getty Images
The musical bone-shaker of Croatia is all grown up: 10 years after planting massive sound systems on the Dalmatian coast and blasting dubstep at full volume, Outlook has come of age with a bill that shows how the festival has matured. Headliners at the student-heavy festival include major players on the grime scene such as Wiley and Bugzy Malone, bass-heads such as the Bug and Digital Mystikz, mixed up with the likes of underground hip-hop and R&B phenomenon Princess Nokia. It's held in an abandoned fort in Pula, so expect serious sunsets, plenty of hype and drop, after drop, after drop.
• 7-10 September, from £141, outlookfestival.com
Flow Festival, Finland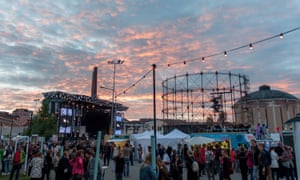 Photograph: Gaelle Beri/Redferns
Born out of a small club event over a decade ago, Flow Festival now draws around 75,000 people to the area around a power plant in Helsinki, which is transformed into a beautifully illuminated setting for music and visual arts. This year's lineup includes Frank Ocean, Moderat and London Grammar, but food takes centre stage too: more than 40 high-profile restaurants are to be part of the event, with an emphasis on sustainable, locally produced food, including plenty of vegan cuisine. This all helps Flow remain a carbon-neutral festival – and it was one of the first in the world to achieve this.
• 11-13 August, from €99, flowfestival.com
source:  The Guardian