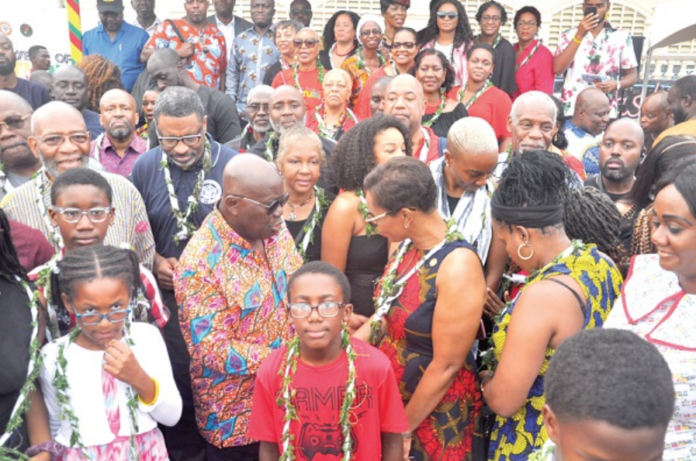 Hundreds of African Americans and Africans in the Diaspora yesterday joined the chiefs, elders and people of James Town in Accra to mark the 'Year of Return.'
Dubbed: 'James Town to James Town', the event symbolically marked exactly 400 years since the first slave landed on Amerian soil on August 20, 1619.

Durbar
Chiefs and elders of Accra, dressed in their full regalia, with a large retinue of traditional priests, priestesses and flag-wielding Asafo (warrior) groups, welcomed their brothers and sisters from the Diaspora with a display of rich traditional rituals, drumming and dancing.
After the performance of libation and the saying of Christian prayers, the Diasporans, led by the President of National Association for the Advancement of Coloured People, Mr Derick Johnson, and comprising some renowned international figures such as actor Danny Glover, were each decorated with a garland (nyanyera) as a symbol of blessing.
SEE THIS: Photo: Strongman, Nana Ama welcome first baby
The African Americans and Africans in the Diaspora, who looked excited in their garlands, took turns in a long queue to shake hands with the President, Nana Addo Dankwa Akufo-Addo, who in turn, welcomed them to their roots.
A cultural troupe, Adesa Talor (storyteller), performed a dance to tell the story of the slave trade and ended it by sapping their flags on the floor, signifying that Ghana had attained victory.
Also present were the Minister of Tourism, Arts and Culture, Mrs Barbara Oteng-Gyasi, and the Chief Executive Officer of the Ghana Tourism Authority, Mr Akwasi Agyeman.
President Akufo-Addo, in a symbolic gesture, presented the chiefs and people of James Town with items which included cartons of foreign drinks and an unspecified amount of cash.
ALSO SEE: Video: Jidenna commends Akufo-Addo for 'Year of Return' initiative
The Sempe Mantse, Nii Adote Otinto, received the items.

Pan Africanism
Mrs Oteng-Gyasi said Ghana's Pan African role that was started by Dr Kwame Nkrumah, had not waned and that it had been reinvigorated by the deeds and words of President Akufo-Addo.
She said since the President declared the Year of Return in America last year, over 78 activities had so far been organised to mark the event.
The Metropolitan Chief Executive (MCE) of Accra, Mr Mohammed Nii Adjei Sowah, commended the President's role in ensuring a peaceful and an incident-free Homowo Festival in Accra, and gave an assurance that the foundation laid would be sustained.
Appreciation
Speaking on behalf of the returnees, Mr Derick Johnson, expressed the gratitude of the groups to President Akufo-Addo, and the government and people of Ghana for welcoming them with open arms and also offering them insights into their roots.
Background
The Year of Return, which is being championed by the Ministry of Tourism, Arts and Culture through the Ghana Tourism Authority, has a correlation with this year's PANAFEST and Emancipation Day.
It is aimed at enticing brothers and sisters of African descent in the Diaspora to return to Ghana, and by extension Africa, to help develop their roots.
READ MORE: Year of Return: We need to talk about Africa not only where we are citizens – Danny Glover
Source: graphic.com.gh