He sells boxing bouts better than anyone does here in Ghana and is a good boxer as well. And ahead of his September 30 showdown with long time challenger Batsie Samir, Bukom Banku (Brimah Kamoko) has already started stirring interest.
In the latest of his pre-fight razzmatazz Bukom Banku has declared he will "kill" Samir in the ring.
"In an exclusive chat with Joy Sports, Bukom Banku who is looking forward to his 30th straight win at the Bukom Boxing Arena, sent a still photograph of himself holding a rifle over his shoulder and spotting a mean look with sunglasses.
The boy being promoted Accra-based by Box Office promotions is expected to be the biggest grudge bout in Ghana for the year 2017 due to the massive interest shown by the public and the countless confrontations between both boxers.
"I will knock Bastie out. He is nowhere near me in terms of quality and I don't know why people are fussing about him. I am the President of Boxing in Ghana and that's an undeniable fact. Many have accused me of running away from the challenge but that was never the case," he told Joy Sports.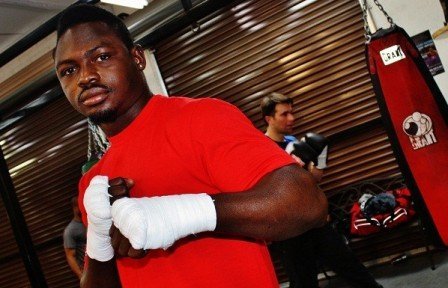 According to the undefeated cruiserweight, the delay in responding to Bastie's challenge was just to stir bigger interest. "Mayweather versus Pacquaio delayed for 3 years and eventually came off in 2015. So that's how boxing goes," Banku explained.
Bukom Banku's record of 29 wins with 22 of them coming by knockout has built a good image in the ring with annexing a major world title, the only element missing in his success story so far. The Ghanaian boxer has had his fair share of  reigning champions refusing to give him a shot to challenge for the title – one of them being Nathan  Cleverly. At light heavyweight, Banku annexed the Africa and the WBO Africa titles. He has also annexed the WBO Africa Cruiserweight title as well.
Bastie Samir at the first news conference to announce the bouts some weeks back, vowed to cause the biggest upset in recent Ghanaian boxing history by winning the fight. Samir a 2008 Olympian, Captained Ghana's Amateur Boxing team the Black Bombers to many tournaments including the African Championships and the AIBA World Championships.