Earlier this year, a Norwegian Air Boeing 787 Dreamliner hitched a ride on a powerful jet stream and flew from New York to London in a record-setting five hours and 13 minutes, landing almost an hour ahead of schedule.
Record-setting, perhaps, but for a subsonic airliner.
In 1976 — over 40 years ago — elite passengers were crossing the Atlantic in under three and a half hours, flying at twice the speed of sound in the Anglo-French Concorde.
Only 20 of the sleek, delta-winged SSTs were built, and just 14 were delivered to two airlines — seven each to Air France and British Airways.
With superlative service and cuisine, exclusive airport lounges and stratospherically high airfares, Concorde passengers flew far above other flights, and cruised faster than fighter jets to their 
destinations
.
Concorde's last commercial flight departed 15 years ago, on October 24, 2003.
But what was it really like to rub shoulders with the rich and famous on a Concorde flight? CNN Travel asked some former passengers what it was like to fly on one.
Cozy quarters
Space was tight in the world's fastest commercial passenger plane.
Suzanne Plunkett/CNN
"The flight attendants loved being on it; the passengers loved being on it," says CNN's Richard Quest, who flew Concorde five times. "You were aware of being part of a very small group of people that were privileged enough to be on Concorde.
"Concorde was extremely small, only about 100 seats. It had more like office chairs, bucket seats, and very small windows. It was noisy, extremely noisy, but I challenge anybody not to have a smile from ear to ear when they got on it."
With an interior fuselage width of about eight and a half feet (2.63 meters), Concorde's cabin was just wider than that of today's Bombardier Regional Jet. The SST had a single aisle, with a two-two seating configuration.
"The actual layout of the plane was in two sections. There was a front section, then a middle lavatory, and then a rear section," explains Quest.
"The two sections were identical — not like one was First Class and one was Business. But there was always a status symbol to being in the front section."
Decant before flying
While Concorde had its regulars, including international businessman Fred Finn — who flew a record-setting 718 times — any number of novice passengers could be on board for their one-and-only supersonic experience.
Like Su Marshall, a globe-trotting Canadian who was treated to an Air France flight from New York to Paris by her then-boyfriend, "who had more money than Midas."
In the Concorde lounge at JFK, where the "Air France staff oozed élan," Marshall chatted with an elegant French woman, and admitted that it was her first flight on the SST.
Related content
Starling Jet: A jet airplane that takes off like a helicopter
"She was a Concorde regular, and whispered candidly to me, 'You better go to the washroom now. It is impossible to pee once in the air. Too small,'" said Su.
"For a girl used to flying steerage, once through the doors of the sleek, tiny, cigar tube into the body of Concorde, I knew I had entered into the rarified air of gods and kings. But dang, things were small and cramped. Leather, polish and flutes of never-ending Champagne, but really squished.
"But hey, three and a half hours to Paris? I sucked it up," chuckles Marshall.
Supersonic makeover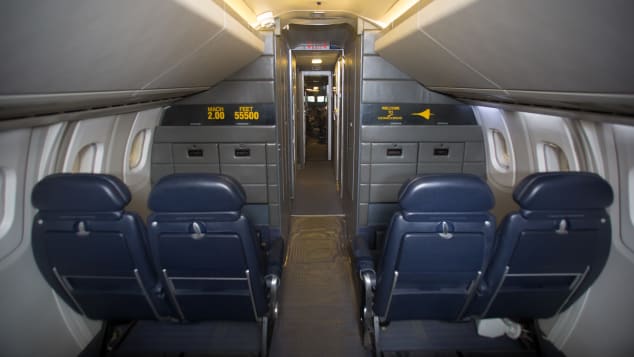 "The quality and style of food service was exceptional."
Suzanne Plunkett/CNN
In the 1980s, Richard Ford was on the team at Landor Associates charged with updating Concorde's interior for British Airways.
"As a part of the detailed technical work it was important to learn more about the flying experience. I was privileged to be offered the chance to make a return flight to New York from London in one day!" says Ford.
"Despite its small size it felt more like an executive jet than a commercial airliner, with thrilling performance," he adds.
Related content
Five ways Boeing's 747 jumbo jet changed travel
"The quality and style of food service was exceptional, and I left with a signed certificate as evidence of my flight."
To meet with an important client some years later, Ford flew Concorde one more time, but as a fare-paying passenger.
"I felt more strongly that I had entered a private club. It was a brief glimpse into a life I had not known, polite, considerate, and beautifully detailed. It was impossible to not feel spoiled, and valued," says Ford.
Mid-century marvel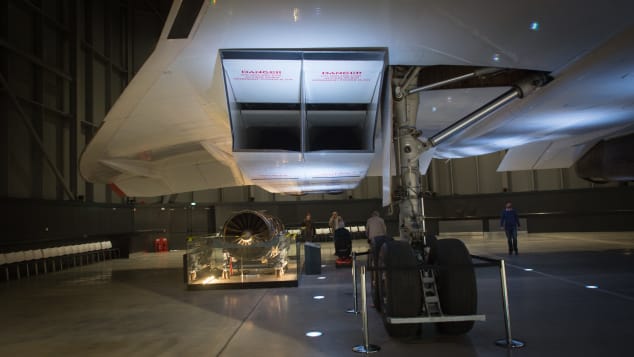 Concorde was the first — and still only — passenger aircraft that had turbojet engines with afterburners.
Suzanne Plunkett/CNN
Concorde was developed at a time when the aviation industry was focused on supersonic airline travel.
In the early 1960s, aeronautical engineers didn't have today's design and analysis tools. But Concorde's designers came up with a remarkably advanced and unique aircraft.
Concorde was the first — and still only — passenger aircraft that had turbojet engines with afterburners. Called "reheat" by the British, raw fuel was introduced into the exhaust of the plane's four engines, immediately increasing the engines' thrust by almost 20%.
Related content
Discos and gyms: Fun airplane ideas that never took off
"Concorde was vastly different from subsonic aircraft at the time. It had no flaps or slats (high-lift devices on the wing) and always used full power with reheat for takeoff," explains former British Airways Concorde captain John Tye.
"Each takeoff was a phenomenal experience, the performance such that we had to warn the passengers in advance what to expect. The roar of the Rolls-Royce Olympus engines, combined with being pushed back into your seat, was like no other civilian aeroplane."
Reheat was also used to push the plane from subsonic to supersonic speeds.
Cruising at Mach 2 — or 1,350 mph — at 60,000 feet, Concorde flew five miles above and 800 mph faster than the subsonic 747s plodding across the Atlantic.
The radio chatter between aircraft could get interesting, according to Tye. "We would often warn these slower aircraft we were coming past in case the sonic boom alarmed them, as we shot past faster than a rifle bullet."
End of an era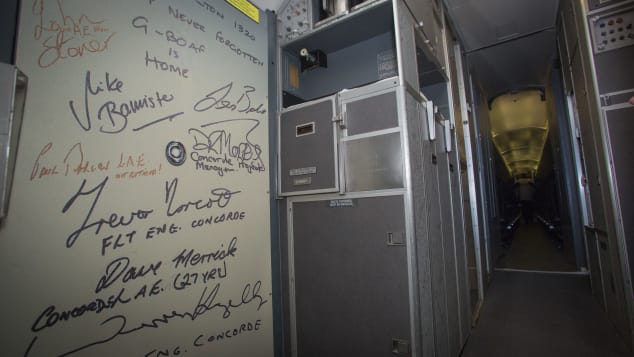 Passengers and crew on Concorde's final flight left their mark on the airplane.
Suzanne Plunkett/CNN
By 1976, social pressure over concerns with the plane's noise and sonic boom led to the cancellation of virtually all orders for Concorde, leaving British Airways and Air France as the only airlines to fly the SST.
The plane suffered its only accident in July 2000 when an Air France Concorde crashed just after takeoff from Paris, killing all 109 people on board and four on the ground.
Related content
Scents on a plane: Why the aviation industry is waking up to fragrance
Concorde returned to service in November 2001, but age, and increasing operating and overhaul costs, caught up with the planes after almost 30 years in the air.
Richard Quest flew on the final, celebrity-studded British Airways Concorde flight in October 2003.
Of that flight, Quest says: "It didn't matter how famous you were, the star was the plane."
Visiting Concorde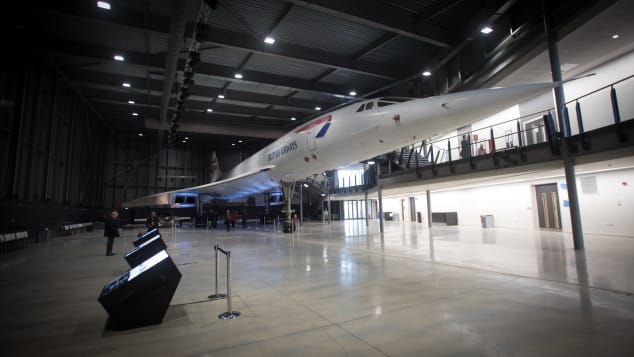 Concorde at Aerospace Bristol.
Suzanne Plunkett/CNN
While Concorde no longer takes to the skies, it can be visited at a number of aviation museums around the world. Here are some of the best: