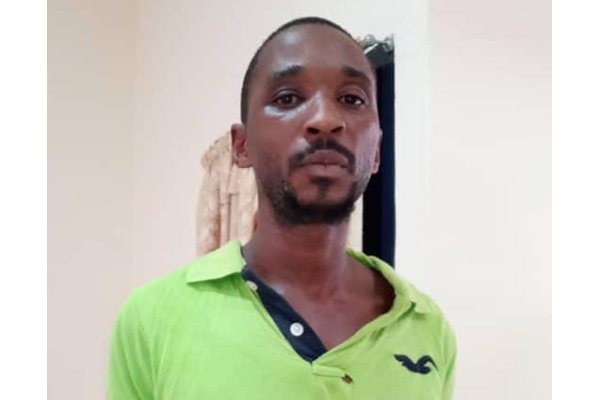 The families of the three Takoradi kidnapped girls say the greatest mistake they've made is not killing the Nigerian suspected kidnapper believed to be the brain behind the kidnapping of the girls when he was arrested.
According to them, being law-abiding and handing him over to the police for prosecution is a wrong move they shouldn't have done, considering how abysmally the police has handled the matter several months after.
The suspected kidnapper Samuel Udotek Wills who was arrested by the Police in the Western Region to assist in investigations into the mysterious kidnapping of the young girls in the Sekondi-Takoradi metropolis escaped from Police cells on Monday 31st December 2018.
ALSO: Musician in court over theft
He was arrested in an uncompleted building at Kansaworado, a suburb of Sekondi-Takoradi metropolis. He was handed over to the Police and was being held at the Takoradi Central Police cell but mysteriously disappeared from the cell days later.
After the suspect was re-arrested he told the court he was allegedly helped by a CID officer named Ametepe to escape. That officer has since been transferred with no investigation done into the claim.
Following the discovery of human remains from a septic tank in a house previously occupied by the suspect, the CID has requested that families of the three kidnapped girls avail themselves for DNA samples to be taken to establish the identities of the human parts.
ALSO: Missing Taadi girls: My resignation will not solve issue – CID boss
But the Spokesperson for the three concerned families, Michael Grant-Hayford told Akwasi Nsiah on Kasapa News that they regret dearly for not beating the suspect to death to end the matter which has since lingered on till now several months after the suspect's arrest.
"The first mistake we did was we deciding to hand over the suspect to the police, we should have rather beat him to death. We thought we did the right thing by handing him over to the police but they allowed him to escape from their custody when he was detained in the cell."
ALSO: Ewuradjoa writes: My nine-hour journey to Dromankese and the land of 'Monkeys'
"After the suspect escaped we ourselves searched for him and found him and informed the Police to effect his arrest. If we knew the police will let him off in the first instance we would have killed him and end the matter. Now see, more than six months after the suspect was re-arrested we're nowhere near the conclusion of this matter. We really regret handing him over to the Police."

Source: Kasapafm