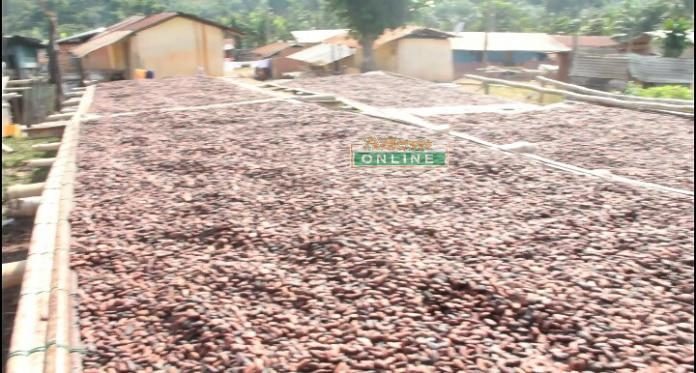 Some farmers in the country have rubbished claims that they are smuggling subsidised fertilisers from the country to neighbouring Burkina Faso and Cote d'Ivoire.
The farmers are rather accusing the Akufo-Addo government of diverting money meant for Ghana's cocoa sector.
A cocoa farmer at Sefwi-Wiawso District in the Western region, Abraham Mensah is, thus, pleading with the government to deal with the difficulties being encountered in certain cocoa purchasing areas in respect of the trend of payment for cocoa beans to farmers and stop accusing farmers.
ALSO READ: Revealed: Why woman killed husband in his sleep
"This government is really wicked and does not treat us well but will come and accuse us of smuggling cocoa. That is a lie, we cocoa farmers don't smuggle fertilisers. Government must treat us well. We are really disappointed in them," he said on Accra based Neat FM monitored by Adomonline.com.
President Nana Addo Dankwa Akufo-Addo has appealed to farmers to help the government address the incessant smuggling of subsidised fertilisers from the country to neighbouring Burkina Faso and Cote d'Ivoire.
ALSO READ: Nkoranza drivers fix potholes to shame District Assembly
In a meeting with the Ghana Coffee Cocoa Sheanut
Farmers Association at the Jubilee House, in Accra, last Friday evening,
President Akufo-Addo condemned the act and urged farmers to help the government
stamp out the smuggling of fertilisers.
But, the farmers are urging the government not to relent in its efforts in ensuring that the welfare of the cocoa farmer is prioritised.
ALSO READ: Chris Attoh's late wife was also married to another man
The cocoa farmers revealed that COCOBOD has either refused, neglected or failed to allocate funds to the Licensed Buying Companies as mandated for cocoa purchases.
This, they said, has resulted in delayed payments to cocoa farmers, a situation they said was undermining the well-being of the farmer.
Source: Adomonline.com | Dorcas Abedu-Kennedy