Andy Ruiz Jnr, a native of Southern California became the first boxer of Mexican descent to win a heavyweight title by upsetting British star, Anthony Joshua with a seventh-round Technical Knock Out (TKO) at the Madison Square Garden.
Ruiz, 29, is now the IBF, WBA and WBO Heavyweight Champion of the world.
Ruiz who entered the ring as the underdog fought with a big heart connecting furies of heavy punches in a comeback in round 3 after visiting the canvas for the first time in his career.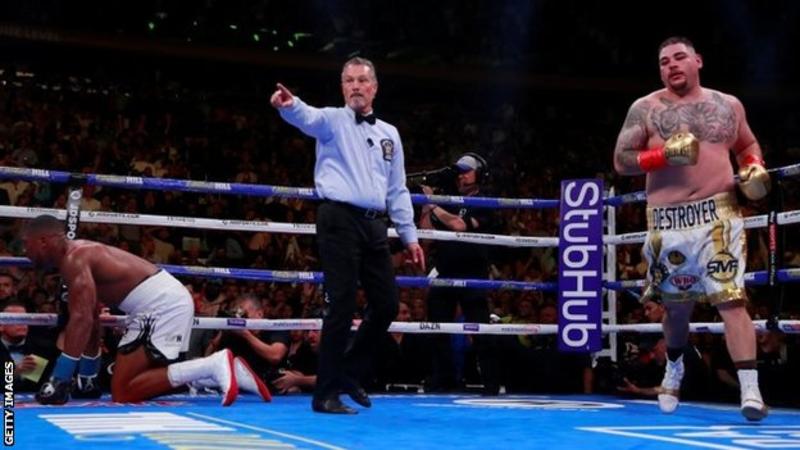 His efforts yielded results by knocking down Anthony Joshua twice in the same round.
Since then, Ruiz never looked back and Anthony Joshua never regained the strength he is known for.
Ruiz fearlessly fought Joshua and dismantled him to cause the perhaps, the greatest upset in the heavyweight division in recent times after James "Buster" Douglas' 1990 win over "Iron" Mike Tyson.
After letting Joshua off the hook in round 4, Ruiz (33-1, 22 KOs) continued the onslaught causing two knockdowns in round 7 with referee Michael Griffin jumping in at 1:27 to wave the fight off as Joshua looked more dazed and weary on his feet.
Ruiz could not hide his joy and he jumped around in wild celebration while the sold-out crowd which was largely in favour of Anthony Joshua watched in amazement.
"Big respect to Andy, big big respect. [He's a] good fighter. Thank you America. Thank you everyone for coming out this evening. Sorry I let my friends down, sorry I let my supporters down", said Joshua in an interview after his defeat.
Ruiz on the hand said "I just want to thank God for giving me this victory. Without Him this wouldn't have been possible. This is what I have been dreaming about. This is what I have been working for, and I can't believe I just made my dreams come true".
Joshua was also asked about what surprised him most about Andy and he said: "He knows how to hold his ground; usually popopopo and Andy will be gone but he knows how to hold his ground".