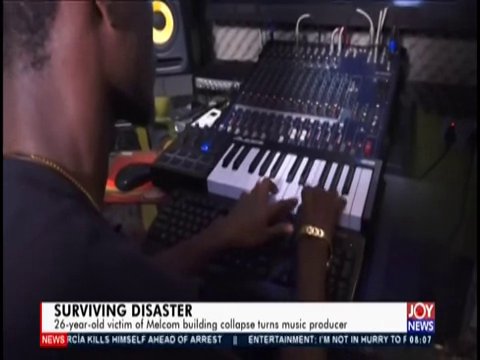 It took paramedics 48 hours to rescue the body of a young man who was stuck underneath the rubble of a collapsed building in Achimota. Seven years later, he is in sync to become one of Ghana's hottest music producers.
The three-story building that once housed a Melcom shopping centre, ripped a large chunk of 26-year-old Solomon Amoh's left ear and crippled use of his right hand. But, determined to rise above adversity, he raised funds and built a recording studio where he produces hits for the country's top artists.
While Mr Amoh lay helpless underneath the wreckage, he "had to drink my own urine to survive," he told Joy News' Komla Adom at his studio in Darkuman. "It was a difficult experience. It wasn't easy."
At one point, he could not sleep, he recalls, but part of what kept him up at night was a pull for him to begin making music.
He invested in equipment and taught himself how to make beats, which include Afrobeats, highlife, trap and techno.
"Oh, and gospel. I didn't add that one but it is important," he said with a laugh.
Years later, his songs have caught the attention of the likes of Captain Planet and Kwami Eugene, among others. His goal is to become a household name.
"I am not a rich guy but I am praying one day I will be rich," he said. "One day, it will be done."
Source: myjoyonline.com