Three people have been reported dead with several others injured in an accident at Ofankor barrier near the Reverend John Teye Memorial Institute on the Pokuasi to Accra highway.
The accident which occurred around 4:30 am Monday involved a 207 Benz bus of the Firm Foundation Academy School, a Toyota matrix taxi, a Marcopolo STC bus, a Toyota pickup, a Hyundai "Trotro" and a tipper truck loaded with sand.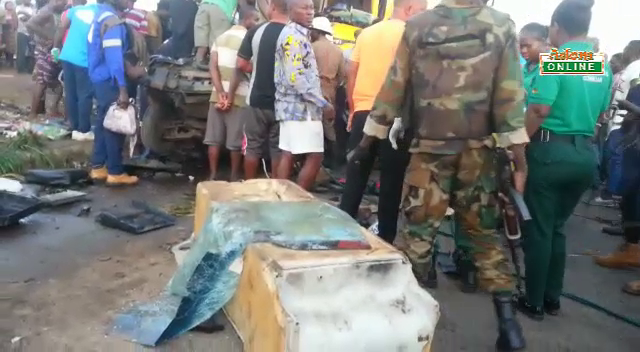 According to eyewitnesses, a young lady fell off the commercial vehicle and was allegedly ran over by the taxi, causing her death instantly.
Another person's head was chopped off in the process with another victim having her hand completely damaged.
READ ALSO: 7 dead in Gomoa Mpota accident [Photos]
The taxi driver whose car was involved in the accident told Adom News the tipper truck driver who was the main cause of the accident was overspeeding.
"I was heading towards the John Teye school and realised the road was choked and I later had the information that there was an accident along the road so we all slowed down only for us to see an oncoming speeding tipper truck approach us.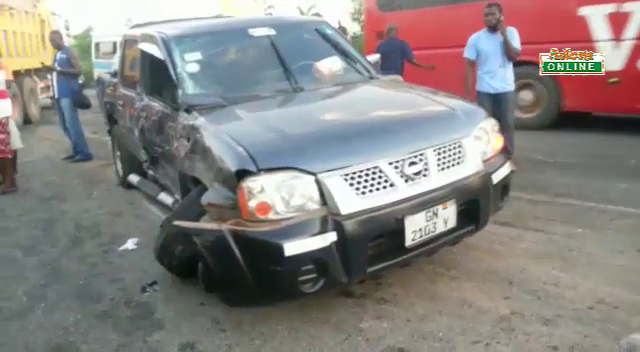 READ ALSO: Exclusive Photos: Funeral of Akumaa Mama zimbi's father
"I thought I was going to die as I saw the tipper from a distance and started screaming out of fear but the truck hit a Hyundai 'trotro' which was full with passengers.
Some civilians who helped in the rescue operation have, however, expressed disappointment in the late arrival of the Ghana Ambulance Service and the Ghana National Fire Service for bringing what they claim was a dysfunctional equipment to the scene of the accident.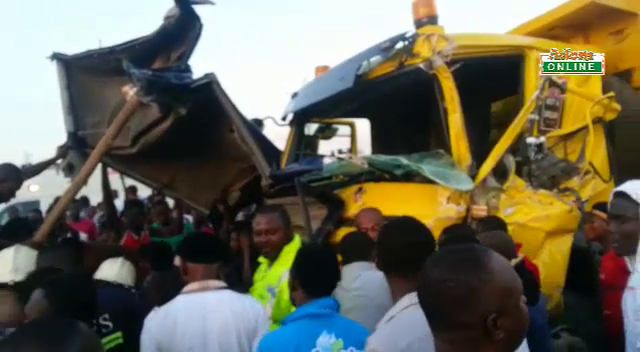 They have, however, commended some scrap dealers who helped to get the people out of the accident vehicles and a policeman who was identified as Lance Corporal Boateng for his zeal and the role he played in the rescue operation.
The deceased have since been conveyed to the morgue.