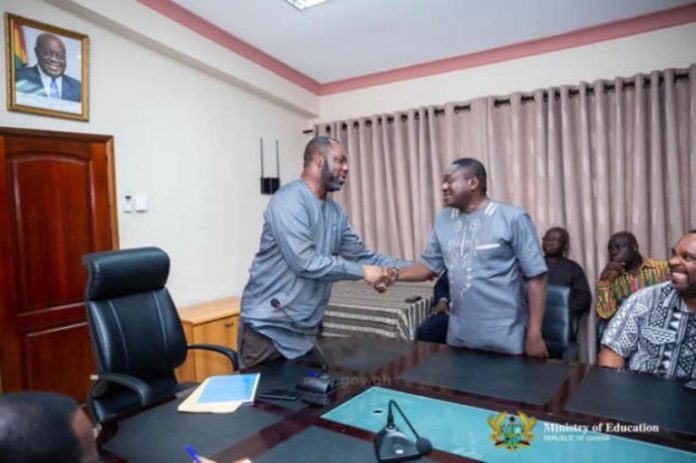 The former Vice-Chancellor of the University of Education, Winneba (UEW) Prof. Mawutor Avoke has apologised to the Education Minister for undermining the process of resolving the impasse at the University.
Prof Avoke who lead a six-member delegation to pay a courtesy call on Dr. Mathew Opoku Prempeh said their conduct of taking matters into their own hands when they should have consulted the Minister, was out of place.
"This issue about Winneba actually played out in a manner in which was to lead to a resolution but for some reasons, I think that we didn't give you the ample opportunity to resolve the matter and it became a struggle.
"We have realised that we may not have done well in not allowing you to ensure that there was absolute resolution. We also realise that if any initiative must be taken, one needed authorisation from your end and I think that we were a little naïve about that in the past couple of weeks," he said.
Prof Avoke is referring to his actions, last month when he stormed the administration office of UEW announcing his reinstatement as Vice-Chancellor.
He was accompanied by some staff of the university who had been dismissed.
Prof. Avoke did not understand why even after he was investigated and cleared by the Economic and Organised Crimes Office (EOCO) for abuse of office and procurement breaches, the University has refused to reinstate him.
Prof. Avoke presented a petition to the Minister
He wants his successor, Prof. Anthony Afful-Broni, to vacate the office he claimed to be rightfully his.
The police were compelled to throw out Prof Avoke and his men out of the University campus on two consecutive occasions.
But in their meeting with Dr Opoku Prempeh, the embattled Vice-Chancellor said their actions were wrong.
"I think that we must apologise for that initiative and we have come to the realisation that you are cardinal in this matter and that that is the only conduit to which a new resolution can be meaningfully attained so we are back here to seek your support and have a conversation," he appealed.
He presented a petition containing their concerns to the Minister.
Dr Opoku Prempeh on his part said he had wished the issues had not gotten out of hand as they did but expressed readiness to intercede on their behalf.
He told the delegation he will their concerns with the new Governing Council which will soon be sworn in into office.
"Whatever grievance it is that you have brought, on the day that we are inaugurating the new council, I will make sure that I make reference to it and refer your matter to them to have a look.
"In all honesty and good faith, a period of reflection is good for everybody I hope that we can come to a settlement on this matter," he concluded.